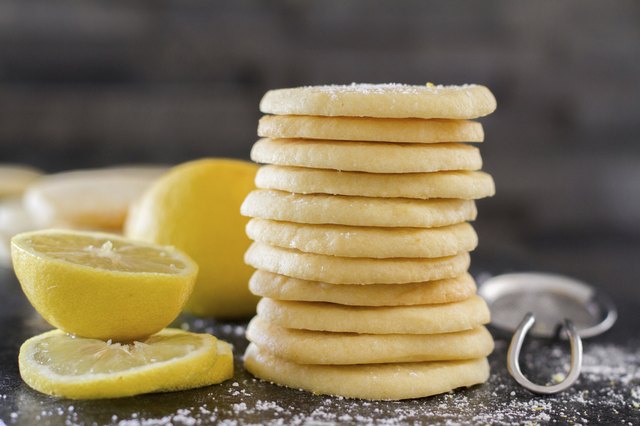 ginauf/iStock/Getty Images
Start to Finish: 2 hours, 30 minutes Servings: 3 dozen cookies Difficulty Level: Beginner
Sugar cookies appeal to a wide audience because of their simple sweet, vanilla flavor. A classic sugar cookie includes flour, butter, eggs, sugar, leavening and, usually, vanilla extract. Even if you're fresh out of vanilla extract, you can whip up a batch of puffy, delicate sugar cookies to serve dusted with sugar or decorated to celebrate the holidays.
Ingredients
3 cups all-purpose flour
1 teaspoon baking soda
1/2 teaspoon salt
1 1/4 cups granulated sugar
1 cup, or 2 sticks, unsalted butter, softened
2 eggs
1 teaspoon almond, coconut, lemon or orange extract OR 2 teaspoons vanilla paste
Directions
Sift the flour and baking soda into a large bowl and set it aside. Use an electric mixer on low to medium speed to cream the eggs and sugar; the mixture should turn a light yellow and have a fluffy texture. Beat in the eggs and flavoring extract or vanilla paste until fully incorporated. Put the mixer on a low speed, and add the flour mixture gradually, approximately a cup at a time. Scrape down the sides of the bowl to ensure the batter is fully mixed.
Shape the dough into a flattened disc; wrap it in plastic wrap and refrigerate for two hours.
Preheat the oven to 375 degrees Fahrenheit. Remove the dough from the refrigerator and shape it into 1 1/2-inch balls. Place the balls on a greased cookie sheet, about 2 inches apart. Bake for 6 to 8 minutes, or until light brown in color. Transfer to a wire rack to cool.
Tips
To use the dough for rolled and cut cookies, shape the batter into two discs. Leave one in the refrigerator until you've rolled out the first batch.
For simple sugar cookies, slightly flatten the dough balls and sprinkle with decorator's sugar before baking. If you plan to frost, glaze or decorate the cookies, cool them completely first, or the icing may melt.
Warnings
Flavored extracts tend to have a more intense flavor than vanilla extract. To avoid an overwhelming flavor, consider adding almond, coconut or citrus extracts just 1/4 teaspoon at a time, and mix thoroughly. Taste the batter after each addition. If you do plan on sampling the batter, use pasteurized eggs to avoid potential exposure to food-borne illness.