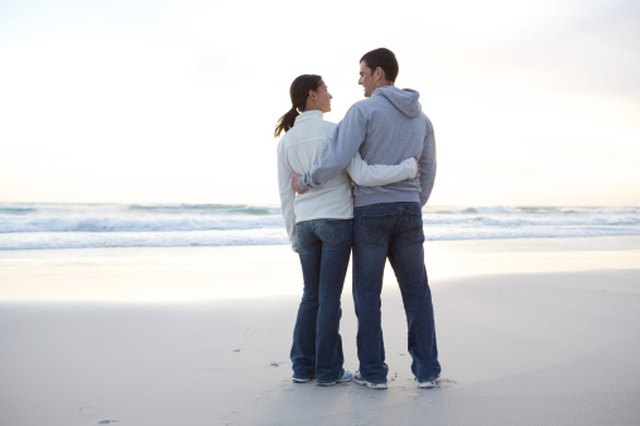 Alistair Berg/Digital Vision/Getty Images
There is no standard silhouette for any type of jeans. The cuts vary by brand. Most flare and boot-cut jeans taper to the knee and flare out below the knee. Flare jeans flare out a noticeable amount, perhaps as much as the bell-bottoms of the 70s. Boot-cut jeans flare out enough to accommodate the top of a boot. It is easy to change flare jeans to boot-cut, because you have to alter them only below the knee.
Rip out the hem of the jeans. Take out the side seams from the hem to 2 inches above the knee.
Spread one leg of the jeans out on a flat surface with the seams on each side. Decide on the desired width of the jeans at the hem. This will be half the distance around the hem of the jeans. Add 1 1/2 inches to this width for seam allowances.
Measure the current width of the fabric at the hem of the jeans. Subtract the new width you calculated. This is the amount of fabric you will be removing. Divide this number in half and mark this distance from the edge of the fabric on each side of the hem with chalk.
Draw a line from the marks on the hem to the edge of the fabric at the knee, using chalk and a yard stick. Cut off the excess fabric, cutting through both layers of fabric. Use the pieces you cut off as a pattern to cut the other leg. Be sure to use the fabric you cut off the inside of the leg for the pattern on the inside of the other leg and the outside fabric piece on the outside.
Turn the jeans wrong-side out. Sew the outside seams of the jeans with a 1/2-inch seam allowance. Use thread that matches the fabric. Finish the seam with a zigzag or over-lock stitch.
Turn the jeans right-side out. Sew the inside seams of the jeans with the wrong sides together and a 1-inch seam allowance. Trim 1/2 inch off the seam allowance on the back side of the jeans. Press the seam allowance toward the cut seam.
Fold the long side of the seam allowance over the short side and press the seam down. Stitch the folded seam down, close to the edge, with thread that matches the thread in the rest of the seam. This is a flat-felled seam.
Replace the hem.
Tip
Start all side seams at the top and try to match them to the existing seams.
Warning
Your jeans may have flat-felled seams on the outside seams also. If so, add 2 inches for seam allowances and follow the instructions for sewing the inside seams.