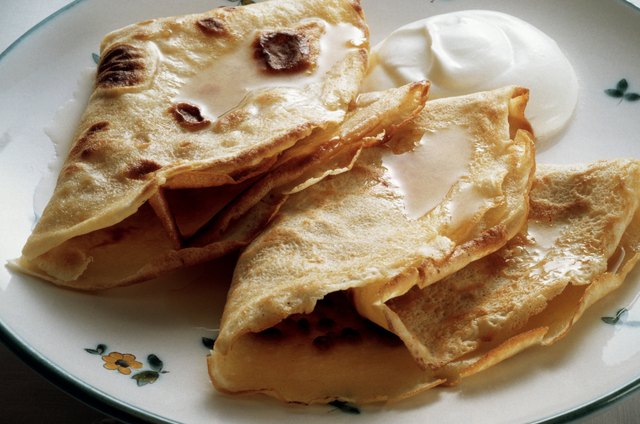 Eising/Photodisc/Getty Images
Crepes are the sophisticated cousin of traditional pancakes. Served plain, sprinkled with powdered sugar, or filled with something sweet, they can elevate a typical weekend breakfast to something special. You don't have to make a separate batter if the kids don't want to try something new. Make theirs first; then modify the leftover batter to make a few crepes for yourself.
Ingredients
Prepared pancake batter
1/4- to 1/2-cup milk
1 egg
Cooking spray
Powdered sugar, sliced bananas, berries or other fillings (optional)
Directions
Whisk the egg and 1/4 cup of milk in a small bowl until combined.
Add the milk-and-egg mixture to the prepared pancake batter and whisk thoroughly. Add more milk until the batter is the consistency of heavy cream.
Spray a 6- to 9-inch nonstick skillet with cooking spray; then preheat it over medium-high heat.
Pour 2 or 3 tablespoons of batter onto the hot skillet. Swirl the pan to allow the batter to coat the bottom in a thin layer.
Cook for 20 to 30 seconds, until the bottom of the crepe is browned. Carefully flip the crepe and cook for 10 to 15 seconds longer.
Remove the crepe to a wire rack or a plate lined with parchment. Store the crepes in a warm -- 200 degrees Fahrenheit -- oven until ready to serve.
Repeat the steps until you have used the remaining batter.
Serve the crepes plain, sprinkled with sugar, or filled. To fill the crepes, lay one on a plate and spread a spoonful or two of filling in a line across the middle of the crepe. Roll the crepe around the filling.
Tips
Transfer the thinned batter to a large mixing cup with a pour spout before you begin to cook. The pour spout makes it easier to get the right amount of batter into the pan without dripping.
Warnings
These crepes will not come out as paper-thin as traditional crepes because pancake batter includes baking powder, which will cause it to rise slightly.
If the crepes begin to stick, the pan is not hot enough, or it needs more cooking spray.