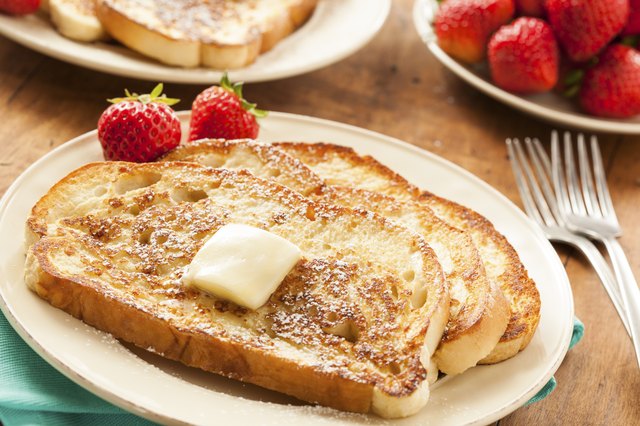 bhofack2/iStock/Getty Images
Easily recognized by its eggy texture and golden-brown edges, French toast is a mainstay at breakfast, brunch, lunch and even dessert. Essentially bread soaked in an egg mixture, this comfort food can be made without the use of milk. If milk is a taboo ingredient -- or if the milkman forgot to deliver -- try a delicious substitution.
French Toast 101
Traditional French toast is served warm, with a moist, custard-like center and crispy fried edges. To achieve this dichotomy of textures, use a drier, firmer bread and soak it briefly in a mixture of eggs and liquid. Day-old bread or a dry French or brioche bread soaks up more batter while holding together better during cooking.
Prepare the egg mixture by blending eggs with liquid in a 1-to-1 ratio -- one large egg is about 3 tablespoons. Other ingredients, such as sugar, vanilla and cinnamon, can be added to the batter according to taste.
Briefly soak the bread on each side in the batter and transfer it to a hot skillet with melted butter or oil. Cook each side over medium-heat until golden brown and serve with your choice of toppings. French toast is done when it's firm to the touch and the edges are crispy.
The Substitute Feature
To make batter without milk, consider blending the eggs with a substitute liquid, such as:
soy milk

coconut milk

almond milk

water

diluted non-dairy creamer
Substituting other liquids for the milk may slightly change the taste, texture, nutritional value and caloric content.
Permission for Omission
You can make French toast by omitting the milk or liquid altogether. The resulting dish will be less custard-like and more egg-like. When omitting the liquid, allow the bread to stay in the egg mixture longer.
Whatcha Cookin', Good Lookin'
While many recipes call for frying the toast in a hot pan over the stove, you can cook French toast on an electric griddle, in the oven and even on the grill! When cooking on the stove, a griddle or in the oven, use a little grease and cook over medium to high heat. When cooking in the oven, use a baking pan to prevent any batter from dripping away. If you are brave enough to grill your French toast, keep the flame low to prevent burning.