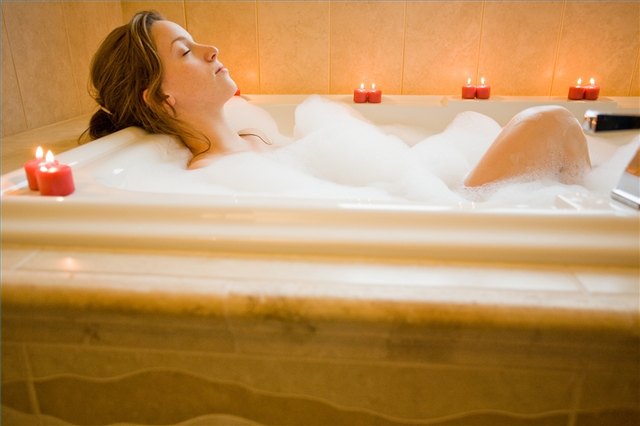 How to Make Coconut Bubble Bath. Making your own bubble bath is not only an Earth-friendly and economical way to indulge yourself in a little self-pampering, but it is also a fantastic gift idea. A natural coconut bubble bath is the perfect way to relax after a long hard day, and will soothe and moisturize dry, tired skin. Fun, simple and easy, this is a project everyone will enjoy. Read on to learn how to make coconut bubble bath.
Measure 4 cups of distilled water in a measuring cup with a pour spout. Add three drops of rose essential oil and two drops of jasmine essential oil to the measuring cup.
Place 1 oz. of liquid glycerin in the measuring cup. Glycerin is a natural skin moisturizer available at most health food stores. Not only will it help to soften your skin, it is also a fixative that will ensure the aroma of your coconut bubble bath lasts as long as possible.
Add 1 oz. of coconut oil to the measuring cup, the active ingredient in your bubble bath. Coconut oil is a natural healing element, and is the perfect ingredient for sore, tired muscles or for those who suffer from arthritis. Coconut oil not only smells great and moisturizes your skin, but it can also help to relieve painful inflammation and heal dry, cracking skin.
Stir in 1 cup of unscented castile soap, mixing well. Castile soap, also available in most health food stores, is a natural cleanser made from 100 percent olive oil. Castile soap is not only the bubbling agent in your coconut bubble bath, it is also a natural moisturizer that will soothe and soften your skin.
Pour the ingredients carefully into a clean plastic bottle with a tight fitting lid. Shake your coconut bubble bath gently before each use, swirling about one quarter of the bottle under hot running water. Pamper yourself, and enjoy.
Tip
This recipe should make enough coconut bubble bath for four refreshing soaks.