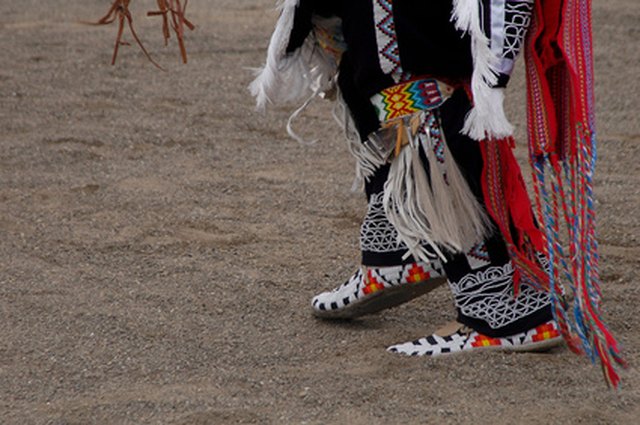 Moccasins, a historical part of Native American dress, still serve as comfortable and easy-to-make footwear today. Cherokee moccasins have a characteristic seam running down the top of the foot, which make them easily distinguishable from other tribes' styles. You can make your own Cherokee moccasins with a free pattern available online, some leather or sturdy fabric, a little knowledge of Cherokee artwork and any thread or beads you want to use for decoration.
Making Your Moccasins
Decide if you want to make your own pattern or order one from an online store. NativeTech.org (http://www.nativetech.org/clothing/moccasin/mocinstr.html) has a free pattern for center-seam moccasins available online, which includes detailed instructions for making your own shoes with a homemade paper pattern. Whether you choose to make your own pattern or use a pre-made one, follow the pattern instructions carefully to ensure that your pattern will fit your foot.
Baste or pin the pattern to the leather or other fabric from which you will make your moccasins, and cut the fabric according to the pattern. The pattern needs to be fixed tightly to the fabric or you will not cut the shape accurately.
Tracethe folds of the pattern onto the fabric with a chalk or fabric pen. This will help you line up the seams correctly before you begin to sew.
Follow the pattern's instructions and sew the seams of the moccasin with the shoe turned inside out. Sewing with the shoe inside out will hide your knots and keep the exterior smooth and attractive. Baste the seams in place with a lighter thread before you sew with the heavier thread. Heavy fabrics and thread are hard to sew with, so having as much of the fabric in place will help align the seams and keep them straight while you sew.
Turn your shoe right side out and make sure it fits. If you don't want to add decoration or if the pattern does not include decorative instructions, you're done.
Decorating Your Moccasins (Optional)
Design the decoration by hand or based on a pattern. You can order patterns online or see sample Cherokee beadwork or decoration by looking at samples.
Trace the pattern onto the shoe. If you're applying fringe or an appliqué pattern, baste it on with lightweight thread before you sew it on permanently.
Follow the pattern for beadwork or other decorations.
Tip
If you feel your skill level isn't up to freehand beading or appliqué and you want a decorative moccasin, consider choosing a patterned fabric such as sturdy felt or wool to make the shoes.
Warning
Leather is heavy and can bend lightweight needles. Be sure you're using a heavy enough needle for leatherwork. Beadwork on leather can be difficult, because you must choose a needle thin enough to pass through the needle but sturdy enough to pierce the leather. Your local craft shop will have a variety of needles, and if you're unsure which to choose, the store's staff can help you.