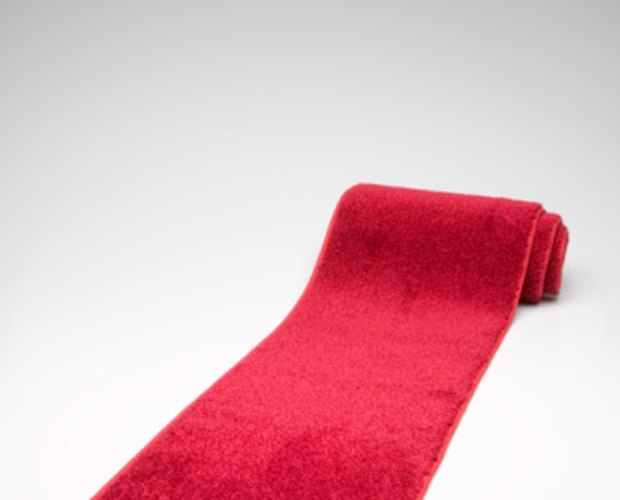 Creatas/Creatas/Getty Images
Present a red carpet, Hollywood backdrop for your event or party to bring out the star quality in guests. The backdrop can be made by simply tracing stencils onto a large, inexpensive fabric, such as muslin or vinyl with at least a 60-inch width. A backdrop can have many sections connected together for ample wall space, useful for large events. The color of the runway does not have to be red, but it should coordinate with the backdrop and can be made of any sturdy material or carpet.
Making the Stencil
Draw the design or logo onto a bristal board with a pencil, use a small ruler to make clean lines.
Cut out the design with scissors. With a thin black marker, trace the designs onto the foam sheet. The foam sheet will be the stencil.
Line up and space out the designs accordingly. If required, create more than one stencil for each design. For example; one stencil for the logo and another stencil for a short phrase. Carefully cut along the marked lines of the designs with an exacto knife.
Preparing the Muslin fabric
Spread out your medium weight muslin fabric on flat, even surface. On four sides, use a long ruler to measure out 110 inches, plus 1.5 inches for seam allowance.
Fold the fabric in 1/2 inch and press with a hot iron, then fold again 1 inch to close the seam and press. Pin seams together. Fold and press seams one side at a time.
Sew a medium stitch on the seams with a coordinating colored thread and maintain a continuous straight line on all sides.
Making the Backdrop
Spread out the fabric once more, with the good side facing up. Plan out where to place the stencils on the muslin. Measure the distance between the designs to make sure they are even.
Use fabric markers to trace out the designs. Neatly color in the logo or letters. Repeat stencilling and allow the fabric to dry for two hours.
Measure 1/2 inch in from the four corners of the backdrop. Mark with a pencil. Poke a thin long nail through a marked corner on the top of the backdrop and hammer the nail into the wall. Repeat for the opposite top corner and then for the bottom two corners. You may also need to add a nail to each side of the backdrop to hold it tightly in place.
Warning
Do not close circles in drawings or letters when making the stencil. For example; a, b, d, e, o, and p. Spray painting designs will smudge and make a messy backdrop.