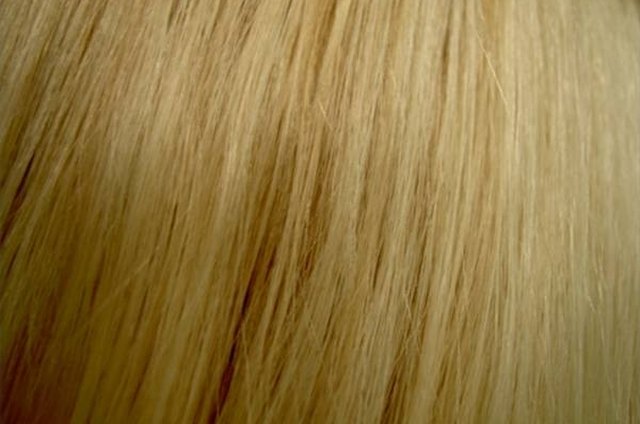 Credit: jdurham - morguefile / jdurham
Styling a hair weave to be wavy adds great variety to your look. Using a flat iron ensures a looser, more natural appearance. You can easily wear your weave wavy and move from work during the day and to a party at night with no change in hairstyle.
Prepare your hair weave. Make sure your hair is completely dry. It is best, whenever styling hair, not to wash it that day. The style will hold more efficiently and be easier to work with.
Apply a thermal resisting product, which protects your hair from the heat of a flat iron and adds shine. You can find thermal resistant products in grocery stores and beauty salons. Squirt a small amount into the palm of your hand, about the size of a quarter. Rub your hands together and spread the product through your hair weave, using your fingertips. Brush through your weave to spread the product evenly.
Spread mousse through your hair to ensure the waves stay in your hair all day. Use your fingertips to spread the mouse through your hair, avoiding the roots. Brush the mouse through your hair to ensure even coverage.
Section your hair into four or five layers. Starting from the bottom create a thin layer from one side of your head to the other and section it off with a hair clip. Continue working your way up until you have sectioned off all of your hair.
Spray your roots with hairspray to add extra volume. Starting with the bottom layer, spray along the roots of your weave. Hold the hairspray can 4 to 6 inches away from your scalp, and move your hand back and forth while spraying.
Curl your weave with a flat iron to create waves. Starting with your lowest layer of sectioned hair, remove the hair clip. Section off a small portion of your hair and place it between the two hands of the flat iron. Never place the flat iron directly against your scalp. This can burn you or damage your roots. Instead, start approximately 1 inch away from your scalp.
Clamp the two hands of the flat iron together and slowly pull down toward your feet to straighten the full length of your hair. Once you reach the bottom of you hair stop at the ends and start folding your flat iron up, wrapping your hair around the clamped iron as if you were using a curling iron. Hold the flat iron in place for about 8 seconds, and then slowly release. You hair will have a perfect loose wave.
Finish off with a light mist of hairspray to hold everything in place. Hold the hairspray 4 to 6 inches from your scalp and quickly give your hair an all-over spray.