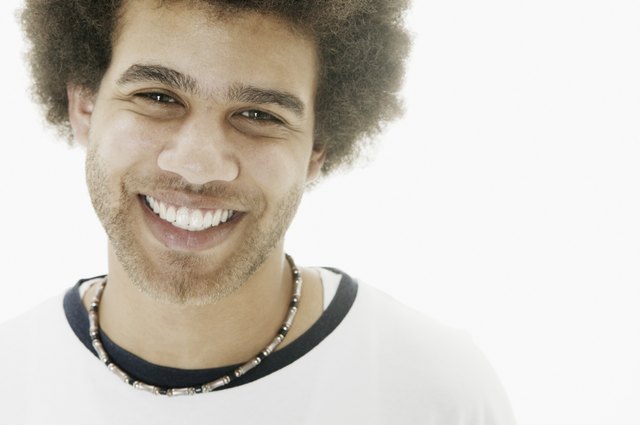 Brand X Pictures/Brand X Pictures/Getty Images
Afros are a bold hair style for those who wish to embrace their thick tightly curled hair. Depending on the length of a person's hair, an afro can be short and thick or tall, fluffy and full of volume. Because of the tight curls common in African-American, Brazilian, Afro-Caribbean and other ethnic hair types, an afro can feel dry and coarse after washing or long-term exposure to the sun. With a few simple hair care products, you can retain moisture and soften your afro.
Wash your hair and scalp thoroughly with a nourishing shampoo, specifically designed for curly or processed hair. Thoroughly rinse the shampoo from the hair and follow with a moisture rich cream conditioner. Allow the conditioner to sit on your hair for the suggested time before rinsing.
Pat the hair completely dry with a towel. For faster drying, use a blow dryer on the cool air setting.
Spray a light coat of leave-in conditioner throughout your hair. Part your hair as needed to reach the roots. Use your hands to spread the conditioner evenly throughout your afro.
Dispense a coin-sized amount of natural hair oil onto your palm. Rub your palms together and distribute the oil throughout the entire afro. Start with a dime sized amount, then apply more as needed.
Repeat the above steps each time you was your hair, at least twice weekly.
Tip
Avoid using appliances on high heat such as blow dryers, curling irons, flat irons or pressing combs, as this can contribute to damaging your hair. A light pomade or shea butter lotion may also be used on your hair to help retain moisture.
References