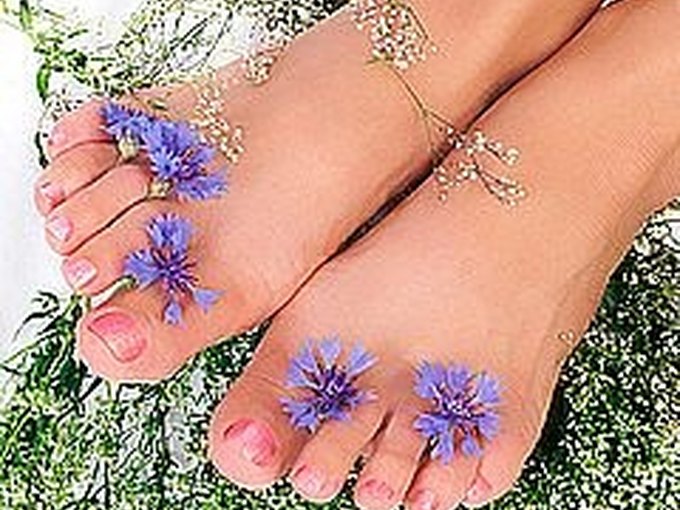 Sexy toes and soft feet are not only to show off in spring and summer.Maintaining soft feet requires some TLC (tender loving care)all year round. No need for expensive pedicures when all the ingredients to get soft and sexy feet are in your kitchen or can be picked up at your local discount store. With proper care your feet will always be made for showing off your newest shoes or sandals.So skip the nail salon and read on.

First wipe off old nail polish.Soak feet in liquid to soften dead skin,making it easier to remove.To create your own luxurious pedicure soak add 8 to 10 cups of milk and a few drops of lavender oil to your basin.The lactic acid in milk softens feet faster than water does,while the soothing scent of lavender relaxes and calms. Another option is filling your basin with warm water and crushed lemons to cleanse and reduce nail discoloration.Then add one of the following:fresh chopped oregano or thyme to combat fungus and aloe to moisturize. Or fill your basin with water and add one or two cups of Epsom salts for a relaxing stressed reduced foot soak.
Now remove dead skin by scrubbing it away with your pumice stone.You can also make your own foot scrub by combining Epsom salts with your favorite scented oils.Massage a handful of epsom salts over wet skin to cleanse, exfoliate, and soften the rough spots
Tap feet dry and clip nails straight across. Now using your nail file nails to shape and desired length.
Now this is my favorite part playing with colors.Slip your toes into toe separators and remove any product buildup with cotton and polish remover.Apply base coat to strengthen now your are ready to polish.Choose your color and begin with a thin first coat.Apply a second coat and finish with a top coat for shine and to seal color.Allow at least an hour to dry.
Now you're finished and your feet look cute slip them into some hot shoes and hit the town in style.