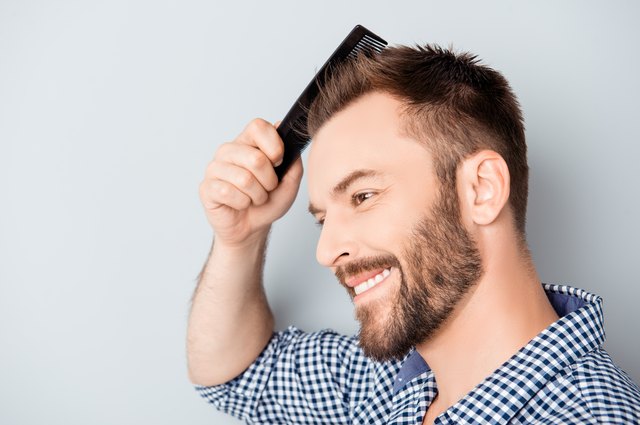 The classic slicked-back or "wet-look" hairstyle is back in for men. The look has been sported by stars like George Clooney as well as male runway models. Despite this, it doesn't take a lot to get the glossy, wet look — like you've just come out of the shower — whether worn slicked back from the face or stiff and spiky, you just need the right hair product — and lots of it.
Choose a hair gel based on the texture of your hair, because this product is key in achieving the wet hair appearance. Use an extra-hold gel for thick hair and a normal strength gel or spray for thinner hair. If you have curly hair, you should use a product for frizz control to keep hair smooth.
Consider the look you want to achieve. There are a variety of "wet-look" styles to choose from based on your hair's texture and length. For all of these styles, though, apply gel liberally and avoid brushing the product out when styling
Slick your hair straight back from the temples for a classic look. This can be worn with or without a part and is best achieved with classic Brylcreem.
Make thick hair spike up by applying gel at the roots and sliding it upward to the ends of the hair with your fingers. Let hair air dry or blow dry for a messier look.
Add a curl-boosting spray for curly hair and blow dry, but leave hair slightly damp, so it still looks wet when you are done. Use a brush gently to style hair while blow drying.
Smooth back front hair with gel while it is still wet if you have long hair. Also apply gel throughout your hair and the tips with your fingers. You can even put your hair in a pony tail.
Achieve a wet mohawk look by smoothing hair down at sides and back with hair gel while hair is still damp. Spike up the front and middle section of hair by using your fingers and hair gel. Style until your achieve the exact look you want.
Tip
Avoid using hair products that contain alcohol since they can dry out hair. Wash hair daily if you use hair gel on a regular basis because it can leave hair looking greasy or unwashed.
Warning
The wet look may be appropriate for certain casual or social occasions and may not work for professional settings.