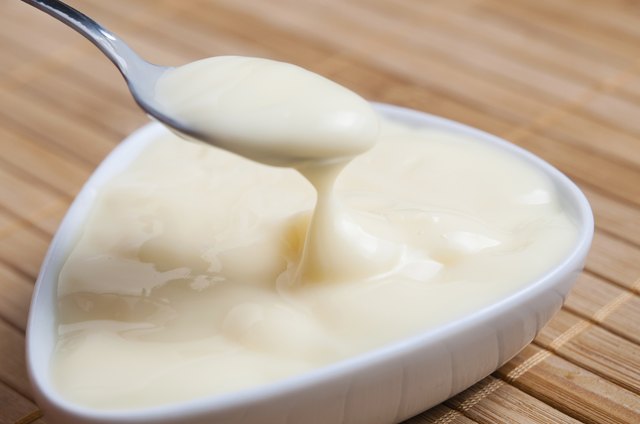 Ramonespelt/iStock/Getty Images
The egg yolks in creme Anglaise help it to thicken naturally when it climbs from 160 to 180 degrees Fahrenheit during cooking. If you don't hold this elegant custard sauce between 160 and 180 F for about three minutes, it won't set up properly. You can fix runny creme Anglaise two ways: Employing "systeme debrouiller," which refers to a "quick fix" in professional French kitchens, or by reheating it.
Starchy Solutions
If a restaurant has a pastry department that makes all its desserts in house, chances are its chefs have resorted to a quick fix, or "system D." The quick fix for creme Anglaise entails a cornstarch slurry. Heat the runny creme over medium-low heat and whisk in a mixture of 1 tablespoon of cornstarch and 1 tablespoon of cold water. Cook the Anglaise until it reaches 180 F and hold it there for 2 minutes. If it starts to bubble, even slightly, take it off the heat and whisk it vigorously. Starch also stabilizes the Anglaise and renders ineffective an enzyme called amylase that causes curdling.
Reheating
For this option, return the creme Anglaise to a saucepan and set the heat to medium low. Heat the creme Anglaise to 160 F and adjust the heat as needed to reach between 170 and 180 F; hold the creme Anglaise between 160 and 180 F, stirring constantly, until it reaches the proper consistency.
References