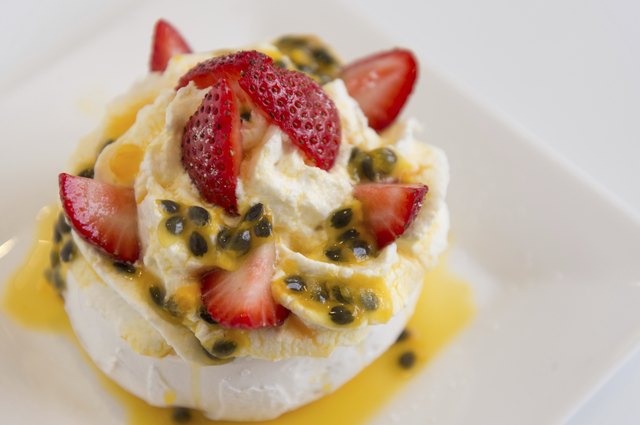 tassapon/iStock/Getty Images
Although passion fruit looks shriveled when fully ripened, that dimpled stage means that it's ready to eat. On the inside, you'll find a jellylike golden pulp and black seeds that resemble large pomegranate seeds, with a similar juicy pop when you bite into them. Look for passion fruit in late summer, when the harvest is largest, in January or at springtime during its lighter harvest. Enjoy it plain or add it to sweet or savory dishes.
Plain and Simple
Eat passion fruit plain to savor its sweet-tart flavor and tropical fragrance. Simply cut the fruit in half, arrange the halves in a shallow bowl or plate, and scoop out the pulp and seeds with a spoon. Among the purple varieties, "Frederick," "Paul Ecke" and "Red Rover" are best for eating out of hand. Or look for an elongated yellow vanilla passion fruit variety that features a light green pulp and a vanilla-like flavor.
With Other Fruits
Scooped out of its shell, passion fruit pairs well stirred in with other fruits, including bananas, kiwi, oranges, mangoes, papayas, pineapple and strawberries. Serve the fruit as a side dish salad or for dessert, topped with a dab of vanilla yogurt or ice cream. Other good combinations include a mix of passion fruit and raspberries topped with dark chocolate sauce and sugared ginger, or passion fruit and peaches topped with caramel sauce and ginger.
In Desserts
Passion fruit adds flavor and crunch to dessert sauces, souffles, mousses, puddings and cakes, particularly those with lemon, orange or vanilla flavors. Add the pulp and seeds from two or three passion fruit to any of your favorite desserts. Or make Pavlova, named after the Russian ballerina, that features passion fruit and other fruits in a crisp meringue base filled with whipped cream.
In Savory Dishes
Add passion fruit pulp and seeds to savory dishes, much as you would with pomegranate seeds. Rice or bulgur dishes take a Middle Eastern turn when you add dried apricots and toasted almonds along with the passion fruit, and salads get a tangy boost from dressings made with one passion fruit. Or make a savory lemon and passion fruit sauce to top broiled or pan-fried chicken or fish.