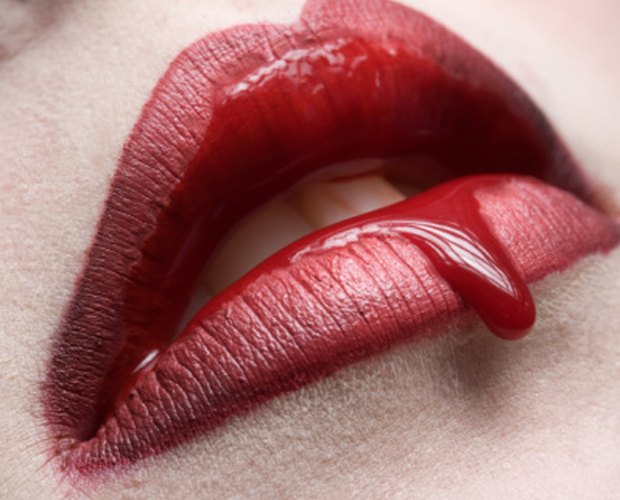 Jupiterimages/Photos.com/Getty Images
The vampire look has been on the rise due to the popularity of modern vampires as portrayed on television, in books and in movies. Sexy vampire makeup goes hand in hand with a vampire costume for a Halloween or costume party, or it can be worn alone for a sexy, Gothic look. This makeup, as described by Taaz, a virtual makeover website, consists of "Gothic glamour with pale skin, smudged eye makeup and blood-red lips." The female vampire, or vampiress, is a "darkly romantic creature of the night" who feeds on humans, therefore the most essential part of this makeup are the bloody lips.
Apply foundation all over a cleansed face to create an even base for your makeup. This foundation should be lighter than your natural skin tone. Vampire makeup consists of pale skin, therefore stay away from foundation that is close to or darker than your skin tone.
Cover your face with an even layer of a light-colored powder. This powder should be lighter than your skin as well, or if you have pale skin, you can use white powder. Spread the powder evenly over your skin. Check your hairline and eyebrows for powder, and rub into skin and away from hair if necessary. You may want to highlight your eyebrows using an eyebrow pencil, eyebrow wax or eyeliner or eyeshadow.
Use a red blush on your cheekbones for a "more sensual and feminine look," which adds some color to your pale face, according to Q Vogue, a lifestyle and fashion blog. Dust a light layer for a subtle look or use more for a dramatic look.
Line your eyes using black eyeliner or eye pencil. Go around the entire eye, top and bottom, both on the inside rim of the eye and on the outside. For the outside rim, use a liquid eyeliner to achieve an even blacker effect. Swing the eyeliner slightly outward on the outside corner of your eye to create a cat-eyed effect.
Add eyeshadow to your eyes for a dark, sexy effect. The color and intensity of the eyeshadow depends on the effect you want to achieve. You can choose from colors such as black and gray, or even dark pink or plum. Apply the eyeshadow with the darker color first on your entire eyelid, and along your bottom lash line. Then, use a slightly lighter color and apply it toward your brow bone and below your bottom lashes. Use a dab of silver eyeshadow on the inside corner of your eye. Use colors from the same color family such as black with gray and dark pink with purple, or mix them up by using dark gray with dark pink, or black with purple.
Add blood-red color to your lips with a lipstick color in either red, dark-red, burgundy or wine. Apply this over the entire lip area. Complete the look with some shiny lip gloss, which you may apply just in the center of your lips to achieve large, shiny lips. As suggested by Taaz, a virtual makeover website, you can also outline the outer corners of your lips with black lip liner (or eyeliner) then apply a ruby red lipstick to the center of your lips followed by a shiny gloss on top. Finally, blend everything together using a lip brush.
Tip
Keep hair down and full of volume by adding tousles or waves. Vampires are known for sleeping upside down like bats, hence the voluminous hair.
Avoid the blood-dripping effect on the corners of your lips which looks unnatural and not sexy. If you wear lip gloss, the lip color will drip, but in a sexy, subtle way.