Makeup is adaptable. What works for certain skin doesn't necessarily work for others. If you're in your 50s, you have different needs than when you were 30. The great news is that, with a few tweaks to your beauty regimen, you can continue to have beautiful, glowing skin in no time flat.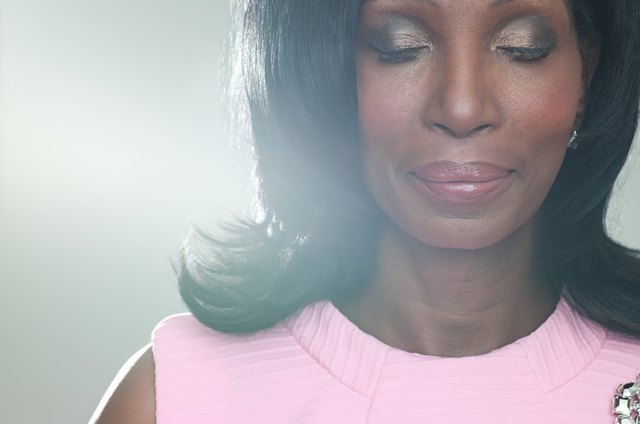 Prep and Prime
On well-hydrated skin, be sure not to skip the all-important step of applying primer. Primers help form a base for everything else you put on your skin, plus they have the added bonus of blurring fine lines and diminishing the look of wrinkles and pores for silky-smooth skin.
Foundation Time
Once you've applied a silicone-based primer to your face, reach for a foundation that is one-half to one full shade darker than your natural tone. As skin ages, it has a tendency to look pale. You may decide the best move is to mix your matching foundation with one that is one step warmer to create the perfect healthy glow. Pick your coverage based on need – light, medium or full-coverage. Just be sure not to go so heavy that the finished product looks cakey.
Powder Sparingly
Powder is fine for combating shine on your nose or forehead, but too much of this product can sink into fine lines and cause skin to look chalky and wrinkled. Skip the step altogether, or use a very light touch in only the places that truly require it.
Blush and Shadow
Pick a sandy-rose or soft coral hue, and don't limit the application to just the apples of your cheeks. Instead, lightly swirl the brush up on the highest point of your cheekbones and feather into your hairline. Remember that too dark a color can look clownish or make you appear gaunt, so stick with more neutral hues. When it comes to eyes, don't go overboard with shimmering shadows that can accentuate creases. Instead, use neutral, matte shades that add just a drop of color to your lids.
Liner and Lashes
Think twice about using bumpy pencil eyeliners that can leave the line around your eyes jagged. Instead, use a soft liquid liner – in brown, not harsh black – so the formula doesn't tug on the lid. Be sure to curl your lashes for the utmost lift, and apply a few light coats of mascara.
Lock in Your Lips
Nothing ages a makeup look more than bleeding lipstick. Because of this, be sure to use a lip liner that either matches or is just one shade darker than your natural color. Then fill in the line, using a lip brush, to avoid bleeding. Keep the shade right in the middle – not too light, and not too dark or harsh. A berry or rose pink is always a safe bet.