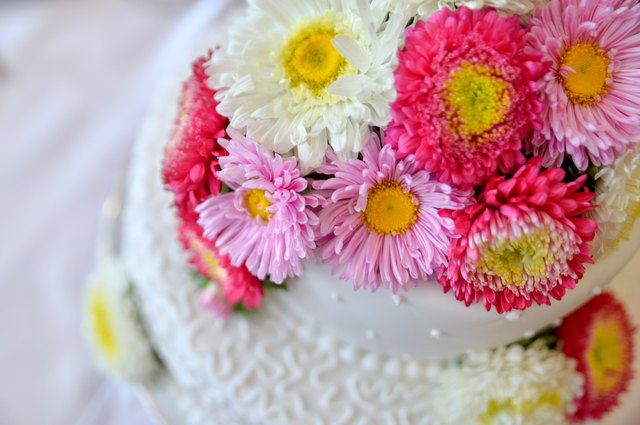 The tradition of saving the top tier of the wedding cake dates back to the 19th century. At that time, it was common to expect a baby within a year of the wedding, so the top tier was kept to celebrate the child's christening. Many couples still save the top tier as a reminder of their wedding day and to celebrate their first anniversary. Gentle thawing over 24 hours preserves the texture of the cake when you want to enjoy it.
Tips
Have a backup plan in case your cake hasn't survived its time in the freezer. Be ready to laugh it off if it tastes like the steaks you froze last month.
Move the cake from the freezer to the coldest part of your refrigerator.
Remove the aluminum foil and plastic wrap from the cake to prevent condensation from ruining the texture of the cake. Place it in a cake box or another loosely covered container. Return it to the refrigerator to finish thawing.
Take the cake out of the refrigerator and let it sit, uncovered, on the counter to come to room temperature.
Tips
Now is a good time to sniff -- if the cake smells off or has picked up odors from the freezer, move to Plan B.
If you're unsure about the quality of the cake after thawing, consider these alternatives:
Some bakers provide couples with a replica of the top tier of their wedding cake, delivered on their first anniversary. This service is ideal for couples who may not have tasted more than one or two bites of the original cake on their wedding day.
Buy or bake a 6-inch cake. Add the topper from your original wedding cake.
Go out for dessert to celebrate your anniversary.