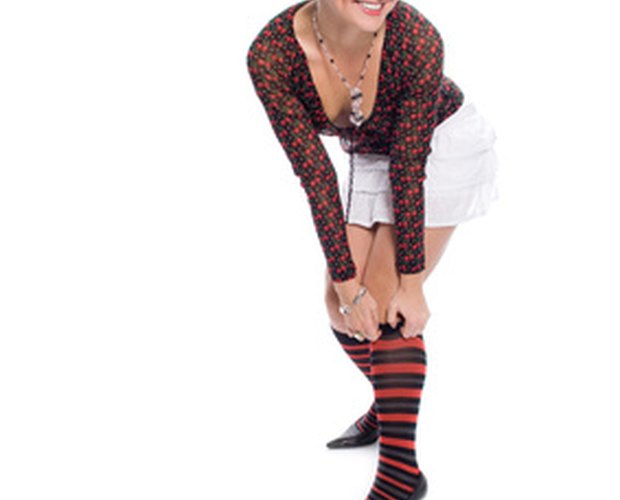 beauty brunette girl dress in knee higs on leg image by Anatoly Tiplyashin from Fotolia.com
Bleaching leg hair is an alternative to removing unwanted hair on the legs. Rather than shaving the hair regularly or undergoing a waxing procedure every so often, you can opt to minimize the hair's appearance by lightening it rather than getting rid of it altogether. Learning how to bleach your leg hair at home might be a worthwhile option if you're prone to razor burn or if you find waxing too painful. All you need is a cream bleach kit designed to lighten your body hair, which is available at many drugstores.
Prepare a very small amount of bleach according to package directions. Use this bleach to test a small area of your skin first. This ensures your skin is not too sensitive for the cream bleach and will not have an adverse reaction. Wait 24 hours to ensure no redness or itching occurs. If your skin does not react, proceed with the bleaching.
Follow package instructions to prepare your bleach. Have the mixture ready before you in a small plastic bowl.
Wash and dry the skin thoroughly before applying the bleach. Apply the cream in a thin film all over your legs. Rub into the skin. Do not apply cream bleach to sensitive areas such as around the groin.
Wash your hands after applying, or you risk bleaching and lightening the skin there as well.
Leave the bleach on your legs for the duration indicated on the package directions, about 10 to 15 minutes. Slowly remove the bleach from your legs with an absorbent fabric.
Wash your legs with cold water. Avoid using strong astringents or soaps for at least eight hours after applying the bleach. Avoid the sun immediately afterward as well.