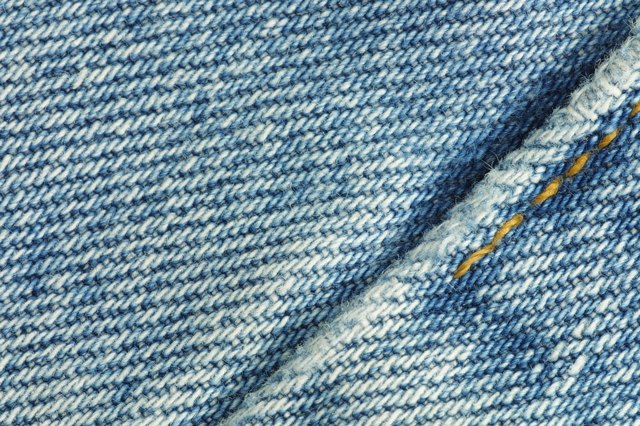 Photos.com/Photos.com/Getty Images
Bleached jeans were a large part of the fashion world in the 1980's. Not only were jeans tapered to accentuate a person's legs, jeans were also made to appear distressed and comfortable. Store brand bleach was often used at home to create distressed jeans to wear with t-shirts and high top shoes, as well as stiletto heels and a skin tight blouse. It's still easy to bleach jeans to resemble an '80's style at home. Use a modest amount of bleach to make jeans appear slightly worn, or significant amount of bleach to create a two-tone effect.
Put on an apron, rubber gloves and goggles in preparation for the project. This will protect your skin and eyes from the bleach.
Pour 1 tsp. of bleach into a spray bottle over a kitchen sink, then fill the bottle 3/4 full of water. This mixture will yield a subtle stone wash look. To make more prominent bleach stains on the jeans, up the bleach to as much as 1/2 cup.
Select an area outside to actually get started making the 80s style jeans. Lay a trash bags on the ground to prevent stains and potentially toxic runoff, and place the jeans over the plastic trash bags. Set the jeans over the bags, front side facing up.
Hold the bottle about 10 inches (25 cm) away from the jeans. Spray the bleach mixture onto the front of the jeans in a sweeping motion, from top to bottom, until the jeans are damp. Spray as evenly as you can, trying to cover the entire surface. Flip the jeans over and repeat.
Allow the bleach to sit for at least 20 minutes to achieve a subtle bleach look. The longer you let the bleach sit, the lighter they will become. Once the jeans are light enough, bring them inside and run under cold running water for five minutes to remove the bleach residue.
Place the jeans in the washer alone, and wash the jeans with 1 tsp. of mild detergent and cold water. Even though you've rinsed the bleach off of the surface, it remains in the denim, and could transfer to other fabrics in the wash. Dry the jeans in the drier on medium heat once the was cycle ends.
Tip
Avoid leaving bleach on the surface of the jeans longer than 1 hour, to prevent the bleach from damaging the fibers in the denim and creating holes. Bleach is naturally corrosive, and will eat away even tough denim.
Warning
Never allow bleach to touch your skin. In case of accidental exposure, rinse immediately with cold water to prevent bleach burning.