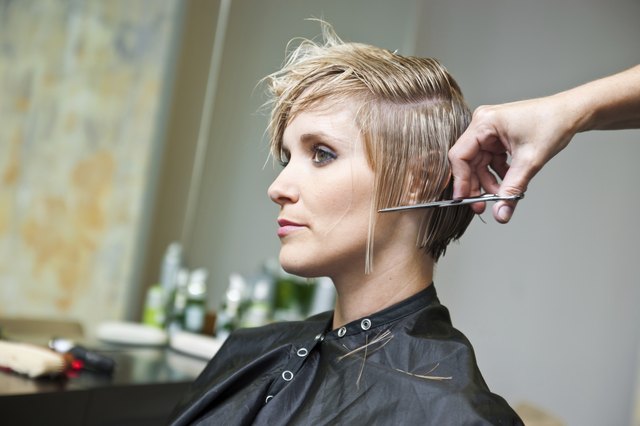 dnberty/iStock/Getty Images
Hair models get paid to have their hair done by professional stylists. Payment can be in the form of the styling services performed as well money earned for modeling. If you are willing to give a stylist free reign over your locks and want to rock a brand new look, you have what it takes to be a hair model.
Hair Modeling Overview
Hair models make themselves available for stylists to demonstrate hair styling techniques. Most hair modeling takes place in an educational setting, where professional stylists teach students methods for cutting, coloring and styling hair. Hair models may also be recruited for cosmetology students to practice on and hone their skills. Industry hair shows and conferences that serve as professional development opportunities for stylists are often in need of hair models as well.
Hair Modeling Versus Fashion Modeling
Hair models are chosen for their hair's suitability to the treatments the stylist wishes to demonstrate. Hair models are not fashion models and there are no requirements to be tall, thin or runway ready for hair modeling. Hair models do not need any prior experience or a portfolio to land a gig. Hair modeling usually does not involve a photo shoot or runway show and is not an entry into a fashion modeling career.
The Hair Modeling Experience
Castings for hair models may be held the day before, or even the day of the event. In the casting, your hair will be evaluated and you will be asked about your styling preferences. To improve your chances of being chosen, be open to trying new styles and place few restrictions on what you will allow the stylist to try. On the day of the event, you may be treated to a professional makeup application. With the makeup as well as the hairstyle, be prepared to step out of your comfort zone.
Hair Modeling Opportunities
The greatest number of opportunities are available in large cities where major hair styling companies have training programs. Big names that often need models are Bumble and Bumble, Vidal Sassoon, Redkin and Aveda. If you aren't in a big city, you may find hair modeling opportunities at your local cosmetology school. Beware of so-called hair modeling agencies that want to represent you for a fee. Hair modeling is an adventurous way to get a new hairstyle and earn fun money, but it is not a career.