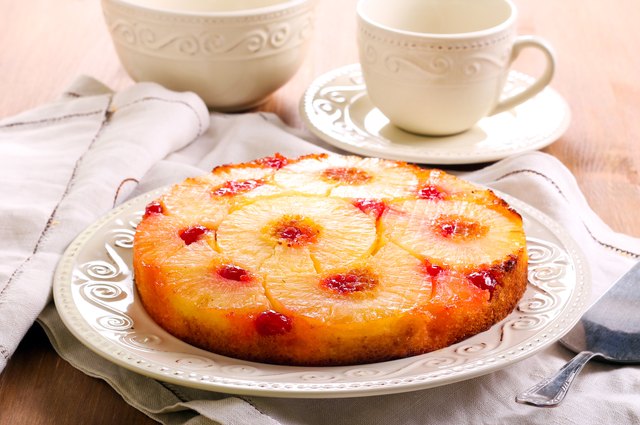 While a NuWave oven can be used to bake cookies, rolls and cinnamon sticks, it can only be used to bake two types of cakes: a right-side-up and an upside-down cake of any flavor. The manufacturer notes these exceptions as well as others in the owner's manual and they should be followed. To bake a right-side-up pineapple cake in a NuWave oven, follow these basic instructions. It is important to note that the NuWave oven has product limitations based on the design of the oven and the circulation of the heat, but additional right-side-up and an upside-down cake recipes can be used, not just of the pineapple or yellow cake variety. Most upside-down cake recipes call for yellow cake mix.
Prepare ingredients. When preparing a right-side-up pineapple cake, see the packaging instructions. For the purpose of this article, mix 1 box of yellow cake mix, 3 eggs, 1/3 cup of oil, and 1 1/3 cups of water or other ingredients as directed.
Pour blended ingredients into the 10-inch NuWave non-stick coated pan and place on the 2-inch high rack. It is not necessary to preheat a NuWave oven. Just place the pan in the apparatus and bake. Unlike traditional ovens, the NuWave does not have conventional oven temperature settings. Bake on High for 20 minutes.
Remove cake and allow to cool for 7 minutes. Check the cake by inserting a toothpick in the center and then removing it. If the toothpick exits without any mix or crumbs stuck to it, it is ready and you should proceed to step 4. If the center is not done and fails the toothpick test, return the cake to the oven and bake for an additional 3 to 5 minutes. Perform the toothpick test again once it is removed for the second time.
Bring 1 cup of brown sugar and 1 can of crushed pineapple to a quick boil. Move saucepan over a medium heat setting for 5 minutes and stir to reach a quick boil. Pour over cake while it is in the cooling process.
Mix box of vanilla pudding powder, 2 cups of milk, and 1 8-oz. block of cream cheese to make vanilla pudding. Wait until cake is completely cooled and apply liberally.
Top with additional ingredients such as nuts, bananas or vanilla cream.
Tips
Always refer to the owner's manual.