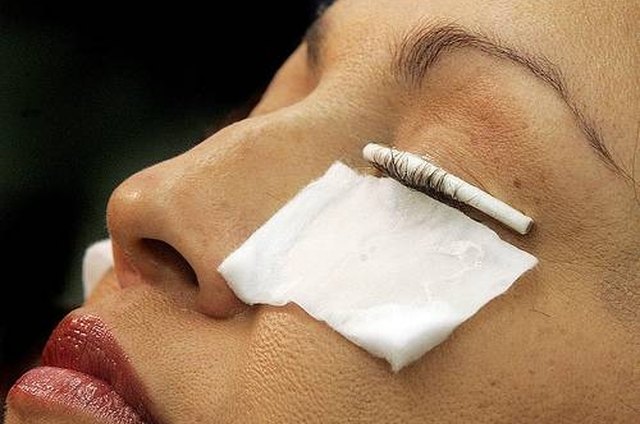 Eyelash perming is a salon or at-home treatment meant to curl and lengthen lashes. The treatment consists of applying a setting lotion, a perming solution, a nourishing agent and perming glue to achieve the desire effects. The result is plumper more dramatic lashes that last much longer than false eyelashes or mascara. The perming process is preferred by women who do not want to wear heavy eye makeup every day, and even by men who want to achieve a dramatic look without cosmetics.
Depending on the brand and type of eyelash perming kit used, permed eyelashes will maintain their look anywhere from 1 to 4 months. More expensive solutions used at high-end salons usually last much longer than cheaper versions because of the amount of care put into applying the perm. During the procedure, eyelashes are treated with a special eyelash glue then wrapped around a small, sponge-like roller. Then the perming solution is applied to the upturned lash and left to set for about five minutes.
Unfortunately, eyelash perming can be quite dangerous. The perming solution used in the treatment has not been approved by the FDA, meaning that it can be potentially harmful to the eye and eye area in the long run. The chemicals in the solution can also damage the lashes and make them fall out sooner, or even inhibit their growth. It is very important to have this treatment done by a trained professional who has a certificate to prove that she has completed the proper training course.