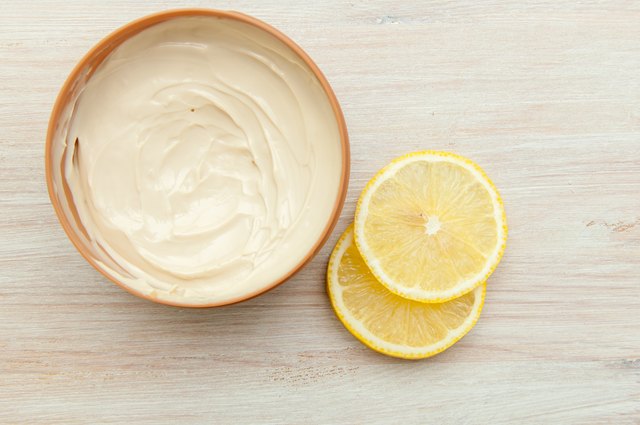 Commonly found in people with acneic or oily skin, large pores allow for debris and oils to congest the pores, causing blackheads and whiteheads. While your pore size is genetically determined, you can use a homemade mask to minimize the visibility of pores and remove debris and oil, to make skin appear smooth and bright.
The ingredients in this mask are ideal for people with acneic skin, oily skin and people with uneven skin tone. The egg whites reduce the appearance of pores, while the lemon brightens skin and evens out hyper-pigmentation.
Separate the egg white from the yolk and place the egg white in a bowl. Add 1 tablespoon of fresh lemon juice. Use the fan brush to vigorously whip the egg white and lemon juice into a foam. Brush the mask onto the face and leave on for 10 minutes. Rinse away the mask with lukewarm water and a washcloth.
Tips
Repeat this mask monthly to retain the effects of the mask.
Tomatoes contain lycopene, an ingredient that is high in antioxidants. Antioxidants neutralize free radicals in the body and reduce signs of aging in the skin. Paired with baking soda, this mask will bring skin back to a healthy pH level. When the skin is at a pH of 5.5 pores function at their best and skin can better protect itself from the environment. Both of these ingredients together will brighten and smooth the skin.
Tips
If your skin is dry, omit baking soda and use sugar as an exfoliator.
Cut one organic tomato in half. Place 3 tablespoons of baking soda on a small, flat plate. Dab the tomato half into the baking soda and massage the tomato and baking soda all over the face, working in circular movements. Once you've covered the entire face, let the juice stay on the face 10 minutes. Rinse away with lukewarm water and a washcloth.
Tips
Always follow up masks with a toner suited to your skin type. This will ensure the skin's pH level stays balanced and pores function normally.