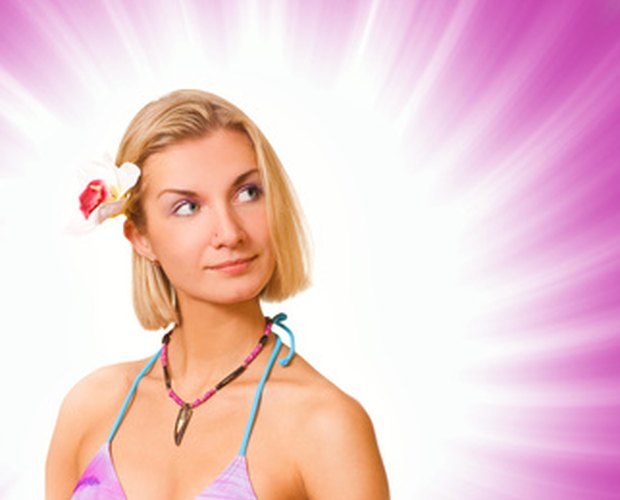 Islander girl on abstract purple background image by Andrejs Pidjass from Fotolia.com
The Hawaiian islands are known for many things, including their natural beauty, amazing local fruit and produce, and for miles of incredible beaches. The popular hair styles in Hawaii reflect this local color and trend toward simple, beautiful and easy-to-manage looks.
Flowers
Since Hawaii is also home to many beautiful flowers and plants, a flower in the hair is a common trend in Hawaii. Options include the colorful hibiscus, plumeria and orchids, among others, and the flowers can be tucked behind one ear or placed within a bun or up-do. Flowers add color and charm to Hawaiian hair.
Long Hair
Many Hawaiian natives grow their hair long and keep it long for years. For those who have straight hair, they don't even have to blow-dry hair, but can just let it dry naturally and wear it very simply down. For those with curly hair, a Brazilian Blowout is a popular straightening treatment that allows people with naturally curly hair to enjoy straight hair for several months.
Up-Dos
Since Hawaii is warm and sunny for many days each year and since the beach is the place to be, many Hawaiian women wear them hair up to keep it out of their face. Up-dos can include simple pony tails, fancier buns or French twists, or braids.
Hair for Men
The men in Hawaii also have traditionally worn their hair longer, either straight or in a braid. Shorts cuts that provide both convenience and comfort are also another option for Hawaiian men.