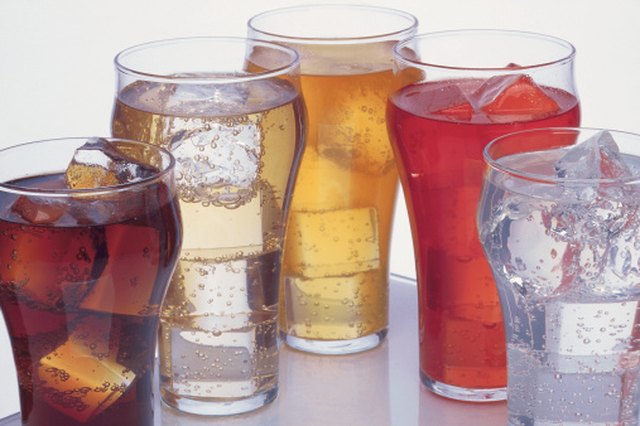 Comstock/Comstock/Getty Images
As a beverage, Italian soda definitely has staying power -- it has been a staple of restaurants and cafes for decades since its inception more than 80 years ago, but the beverage's name is somewhat misleading. The concoction actually had its start in the U.S. and the concept is similar to old-fashioned soda fountains. Although there are variations on the drink, the original three-part recipe has maintained its popularity throughout the years.
Ingredients
Hand-crafted Italian sodas have three main ingredients: carbonated water, flavored syrup and ice. Similar to handmade sodas that were once highly popular in the U.S., the syrup comes in a variety of flavors, including fruit, spices and emulations of other popular drinks such as Chai. The sodas do not have caffeine, and can have about 200 calories per 16 oz.
Beginnings of Italian Soda
While the origin of Italian sodas appears to be based on old-fashioned soda fountains, the San Francisco company Torani were the first to call their concoctions "Italian sodas" in 1925. The two founders were Italian immigrants Rinaldo and Ezilda Torre. Other companies followed suit, calling their flavored soda water Italian soda.
Connection to Italy
As the basis for Italian sodas is the American soda fountain, the origin of this particular drink is not Italy. According to Le Cordon Bleu, "these sodas are scoffed at by most full-blooded Italians." However, there is a drink somewhat similar to Italian sodas that is popular with some Italians -- a non-alcoholic drink made of myrtifolia juice, which is a citrus fruit native to Italy.
Variations
When ordering an Italian soda, you may be given options to have cream or ice cream to your drink or to mix and match flavors of syrup. While the standard Italian soda is hand-crafted, there are also bottled versions available in both regular and diet, which is often flavored with artificial sweetener.