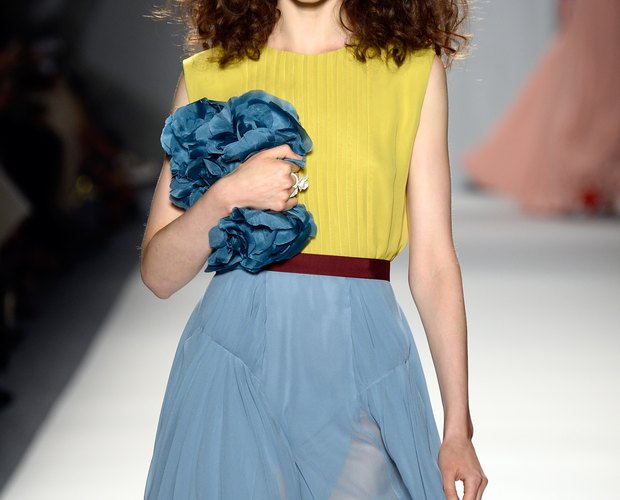 Frazer Harrison/Getty Images Entertainment/Getty Images
Gored and godet skirts are identifiable by their silhouettes. Gored skirts generally have a sectional, A-line shape, and godet skirts have fabric inserts that create a flared style around the hemline. Although the silhouettes and patterns differ, designer fashions as well as sewing enthusiasts often combine the two looks. This type of design creates modified gored panels with godet-shaped inserts.
Gored Skirt Pattern
Although the gored skirt resembles an A-line silhouette, the skirt pattern differs. Beginners and sewing enthusiasts can create the gored skirt pattern with three measurements: waist circumference, hip circumference and the desired skirt length. Since the skirt is made of a series of stitched sectional panels, these measurements are divided according to the amount of panels in your skirt design. Once complete, the gored pattern generally resembles an elongated triangle shape with the top point horizontally snipped away, producing a trapezoid-like pattern.
Sassy Gored Skirts
Heavyweight fabrics -- wool, tweed or velvet -- fair well with gored skirt patterns. These thick textiles generally create unwanted bulk when you add skirt details, such as gathering at the waist. The series of stitched panels produces a smooth, form-fitting waist and hip line and the bottom area appears full. Although the pattern is generally placed on the fabric's straight, vertical grain-line before cutting, the angled section of the pattern is naturally cut on the bias, which produces the fullness when stitched. Be bold and create two or more panels using the stitched seams as part of your sassy gored skirt design.
Godet Skirt Pattern
A godet is a separate piece of fabric inserted into the body of the skirt. The pattern resembles a mini A-line wedge with a circular top. The outline of the godet pattern is usually drawn onto the skirt fabric. Once this area of the skirt is cut out, the wedge-like shape is inserted. This inseam godet produces fullness around the hemline bottom. The more godet pieces you add to your skirt sweep, the fuller your flared hemline becomes. Since skirt patterns differ, you choose the area of the skirt for the desired inseam godet.
Flirty Godet Skirts
Change the look of your existing skirts by inserting godets. You can choose sheer or lightweight fabrics -- silk, satin or lace -- in matching or contrasting colors. Since the top of the godet is generally gathered, these delicate textiles create less bulk. Inject pattern play into your skirt design with this shaped insert by mixing the position of the prints. For example, if you are working with a horizontal-striped fabric, insert vertical-striped godets. You can also add flare to tapered, pencil skirt silhouettes. Just add a godet to the center back seam. Transform your pencil skirt silhouette by adding long-length godets for a full hemline or short-length inserts for a flirty bottom hem.