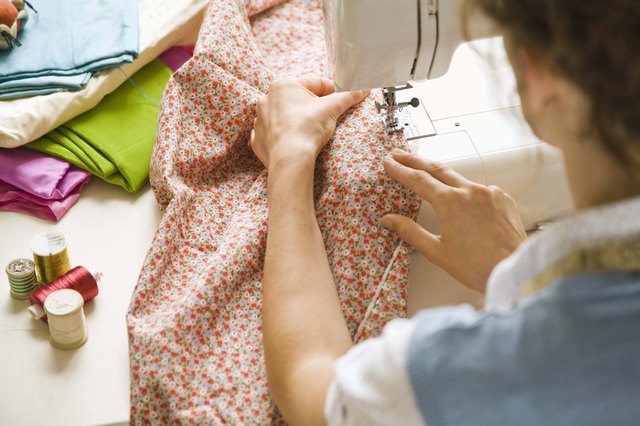 Jupiterimages/Polka Dot/Getty Images
Twill tape and bias tape are most often used for finishing garments. Bias tape is sewn around the edge of a garment, while twill tape is used to cover a seam inside a garment.
Twill tape
Twill tape is a strong woven fabric tape, like a ribbon. The twill weave structure gives the tape a diagonal pattern in the weave.
Bias Tape
Bias tape is made from fabric that has been cut on the bias, or at a 45-degree angle across the fabric. It is then folded and pressed to be used for sewing.
Types
Twill tape is most commonly used to cover the seam inside a garment by sewing it over the seam. It can also be used to create garment labels by silk-screening a company name on the tape.
Bias Tape Uses
Bias tape is sewn around the edge of a garment to give it a finished edge. The tape is flexible and will not pucker along a curve, because the bias cut gives it flexibility.
Differences
The main differences between bias tape and twill tape are the weave structure and the orientation of the weave. Twill tape is used with the grain of the weave, while bias tape is made across the grain of the weave. Both are sewing notions, but have different purposes.
References