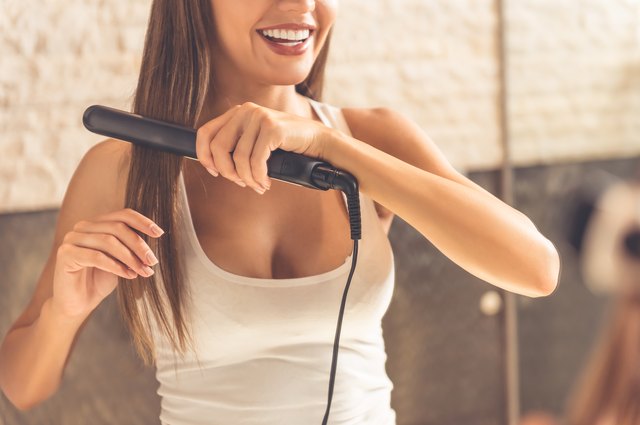 It's widely believed a Parisian named Marcel Gateau invented the first heated tool used for straightening hair in 1872. Years later, at the turn of the 20th century, African American hairstylist Madam CJ Walker innovated hair straightening for black women by using a straightening comb. Since then, straightening tools have improved with technology.
Function
The terms "flat iron" and "straightening iron" are used interchangeably in today's hairstyling industry. The terms are synonymous and often used together by manufacturers in naming a double-plated hand held thermal tool used to straighten or flatten the hair shaft.
Straightening
Although the terms are one and the same, "straightening" is the term of choice when referring to the tools within a historical context. Straightening encompasses a wide variety of methods and techniques, with or without chemicals, for removing the hair's curl, which have been used for more than a century. "Straightening iron" may refer to an antiquated or modern tool.
Flat Iron
Flat ironing has a more limited definition. It refers to the hair-straightening process that uses the flat iron tool with two heated plates rather than a Marcel iron or hot comb, which is commonly used to straighten coarse, thick curls.
Types
Various manufacturers have created irons with features such as ceramic coated plates, infrared heating, adjustable heat settings and ionic, nano and tourmaline technology which helps with the distribution of heat. Some irons have a more rounded shape which allows for curling as well as straightening. Others have wide or skinny plates for different lengths of hair, but all of these are arbitrarily referred to as straightening irons, flat irons and sometimes straightening flat irons.
Fun Facts
In 1909, Isaac Sheron invented a straightening iron most similar to the ones we use today; this iron contained two hot metal plates that slid through the hair, according to TheFreeLibrary.com. For more than a century, women have used irons made for ironing clothes to straighten their hair.