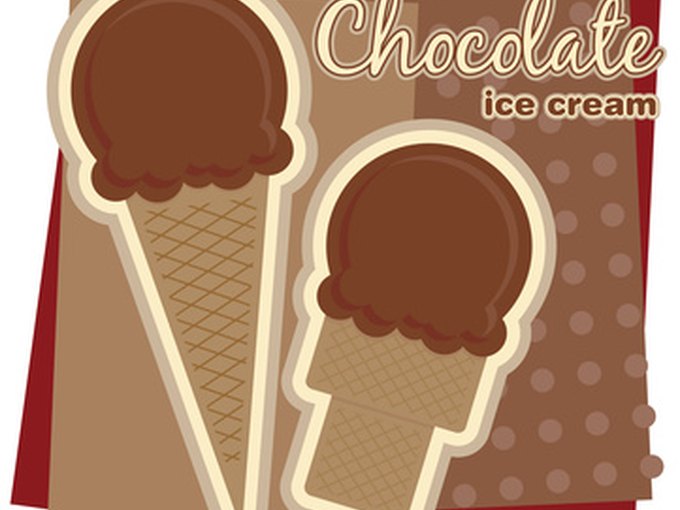 Illustration of Chocolate ice cream cones. image by samantha grandy from Fotolia.com
Chocolate ice cream is a favorite among adults and children alike. This cold treat can be served on its own, in a cone, as a milkshake or accompanied with a dessert. If you choose the latter option, make sure the dessert you serve it with consists of flavors that complement those in chocolate ice cream.
Lava Cake
Lava cake has of a hot liquid filling and is often served with ice cream for the hot and cold contrast. Choose vanilla lava cake for a strong flavor contrast or chocolate lava cake for chocolate lovers.
Butter Cream Cake
A scoop of chocolate ice cream with vanilla butter cream cake is a popular choice among children, and often served at children's birthday parties. Relive this childhood experience the next time you are in need of a dessert idea.
Banana Cream Pie
Banana and chocolate is a popular flavor combination. Create this flavor yourself with a scoop of chocolate ice cream on a slice of banana cream pie.
Soft Cookies
A soft chocolate-chip cookie topped with a scoop of chocolate ice cream is another option for chocolate lovers. The warm or neutral temperature and the chewiness of a soft cookie creates a strong contrast with cold ice cream that melts in the mouth. If you are looking for more of a flavor contrast, choose a cookie that is not made with chocolate.
Chilled Berries
The rich flavor and texture of chilled berries go well with chocolate ice cream, and the crispness of chilled fruit creates a refreshing end of meal treat.