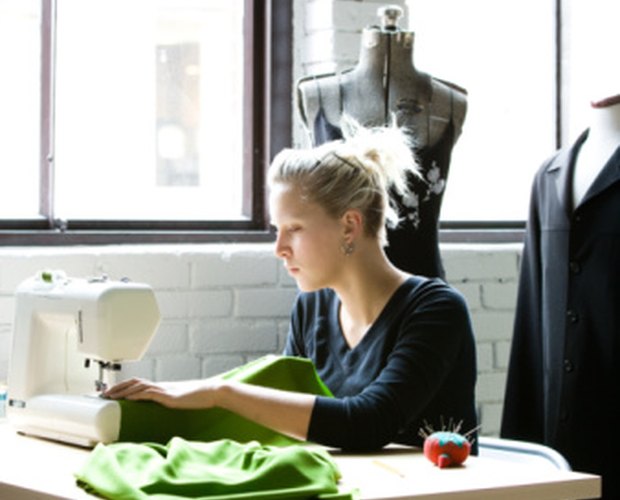 Jupiterimages/Photos.com/Getty Images
When it comes to clothing, the fine details matter. From the way a hem is stitched to the length of sleeves and pant legs, everything works together to form a well-fitting clothing garment. If a garment doesn't fit or function properly, it can be very uncomfortable. According to New Mexico State University, there are certain clothing construction standards for garments such as being durable, inconspicuous and functional.
Pattern Making
Making a test garment before cutting the actual pattern of the garment is common in clothing construction. This will prevent the waste of quality fabric and allow for easily making changes where needed for the final pattern. Long stitches are commonly used when sewing together a test garment. A fit model will try on the test garment and the pattern will be checked for any necessary changes. The test garment will serve as a pattern for the fabric that will be used in the final garment.
Draping
Draping consists of draping fabric on a fit model or dress form. Pinning the fabric and marking it in specific areas is necessary to allow the designer or seamstress to know where the material should be cut. This method requires experience and training. Push pins and safety pins are used in draping material, so draping fabric on a dress form is a more efficient way to drape material.
Sewing
Sewing machines are commonly used in the process of mass producing clothing. They allow for speed and efficiency because each stitch can be made in the exact same length with utmost precision. Hand-sewing is used in the making of couture garments. There are various stitches that can be used in hand-sewing (which can also be imitated on a sewing machine by changing the settings). Back-stitching entails sewing against the seam in a backwards direction. A gathering stitch is commonly used in sleeves, gathered necklines and waists.
Finishing
Buttons, sequins and bead-work are all a part of the finishing process of clothing construction. Before sewing buttons onto a garment, the garment is usually marked for placement of the buttons to ensure proper alignments. Beads and sequin are usually sewn on by hand, but they can be sewn on by a machine as well.