Self-care is the theme of 2017 and with that, comes the luxury of taking time to do things that make YOU feel good (and pampered). Matcha latte? Sure. DIY face mask? Easy. Nanocurrent facial? YES please! We're taking our love of skincare to the next level by incorporating beauty tools to our regime—our web editor, Sam Negrin, tried out five tools that the beauty experts are buzzing about and is reporting back with her findings. You can literally create a $400 spa-worthy facial in the comfort of your own home, with yourself as the expert, anytime you want. Read on to see what your routine might be missing!
KONJAC SPONGE
Konjac sponges ($9.49, Puresol) are used to cleanse the face, lightly exfoliate and remove impurities. They are purely made from the root of a konjac plant, by steaming the edible fiber and morphing into small sponges that are delicate enough for even the most sensitive skin. They're completely dried out at the time of purchase, then after running under hot water for 3-5 minutes, they moisten and expand. You can use them alone (I tried the turmeric-infused version, charcoal and pink clay are also very popular) or even put your cleanser onto the sponge for a deeper clean.
Maintenance?
It's recommended to leave them hanging in a well-ventilated space so they can dry out after each use, and replace every 2-3 months.
The verdict?
Konajc sponges are a low-risk investment that's fun to play around with. I didn't notice any major differences in my skin after using for 4 months (day and night with my cleanser), but it feels really good.
MICRO-ROLLER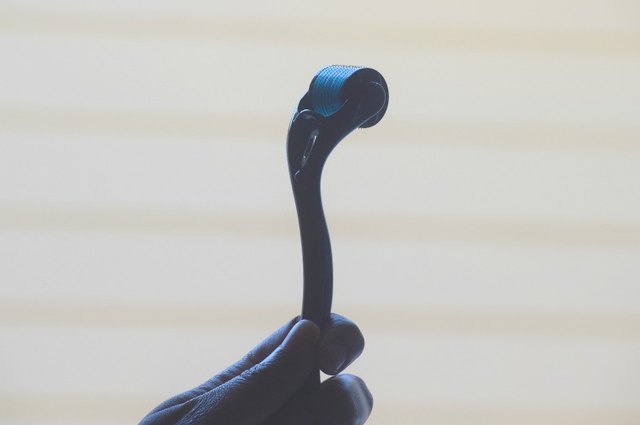 Home dermrolling has received some major attention in the beauty world within the last few months—with it's promised benefits of boosted collagen and elastin production after one use and a glowing complexion, I was really excited to give it a try. Essentially, the roller ($30, Stacked Skincare) is covered in hundreds of microneedles that create micro-injuries in the skin, which signal collagen and elastin production to work overtime. It's best used for fine lines, hyper pigmentation, acne scars, and an overall bright complexion. Because of the micro-injuries in the skin, you use a serum before and after use—and your serum is absorbed up to 75% more than it would be without dermrolling first. THAT is a plus. I've had a few different outcomes from dermrolling. The first time, my skin was completely clear and I used in conjunction with Caudalie's Vinoperfect Radiance Serum, I woke up GLOWING. I mean... no make-up the next day kind of glowing. I was hooked and almost took it on a family trip with me as an addition to my skincare routine (but resisted: it's best to start dermrolling once every two weeks).
Let me preface the second encounter with my dermroller by saying that I have acne-prone skin that is hardly ever 100% clear—almost always have a zit or two floating around (damn you, hormones). Although it clearly states everywhere that you are not to use your dermroller while experiencing active breakouts; I thought I could work around them... I thought wrong. And a few days after I rolled, the breakout completely spread because of the needles rolling across the infected areas and puncturing the clear areas. Needless to say, it was no good.
Maintenance?
It's recommended to replace the roller once every month to avoid dullness ($30). Sanitize after each use with 90% rubbing alcohol.
The verdict?
If you don't suffer from acne and your skin issues mostly deal with hyper pigmentation, acne scarring and fine lines—this is an amazing product and results are visible within the next day. If you suffer from frequent blemishes, it might not be worth it.
NANOCURRENT FACIAL DEVICE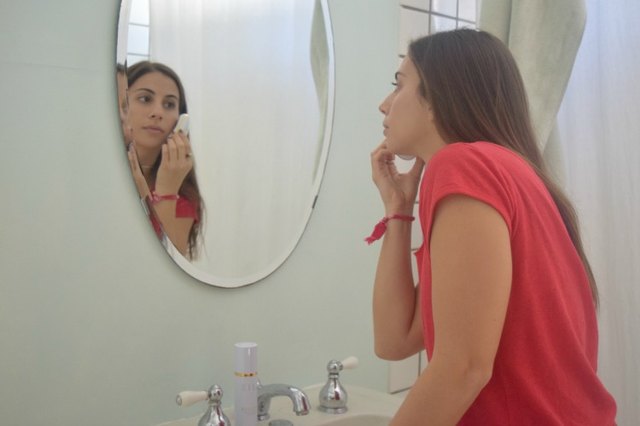 You might be thinking... What the hell is a nanocurrent device? Sounds scientific. Fortunately, I had the chance to chat with Melanie Simon, founder of Ziip Beauty and esthetician to the stars, to really understand what goes into this at-home facial machine; And the potential that it has for literally every single skin type. First of all, nanocurrents are an electrical frequency. They are frequencies in-synch with the human body, i.e. "the electrical language of the body." The nanocurrents work in tandem with the frequencies that are already present within our body—for example, with the Ziip specifically, it will send out negative charges to positively-charged pimples, which literally pulls the current and kills bacteria. The currents also kick up ATP production, which allows us to synthesize collagen and elastin (goodbye fine lines!). Pretty amazing, right?
Let's talk about electrical skin cocktails, something that Ziip Beauty has created with their nanocurrent device ($495, Ziip Beauty). Basically, the device hooks up to bluetooth and the Ziip Beauty app, where you can choose which 'electrical skin cocktail' you want—Total Clearing (acne, 8 mins), Vital Eyes (fine lines and dark circles, 4 mins), Energize (anti-aging, 12 mins), and more. The Ziip sends out specific currents that Melanie herself has been working on for 15+ years—targeted at each specific skin concern. I mean... !!!! This is a seriously luxe facial at your fingertips, any time you want. The Ziip also requires the application of their Golden Conductive Gel ($129, Ziip Beauty) which is a blend of 24 carat gold and synthetic cone snail venom; It provides anti-aging, anti-inflammatory and intense hydrating benefits by itself. The gel allows the nanocurrents to penetrate deep underneath the skin, all-the-while you get an intense treatment mask—double win!
I've been using the Ziip for about a month now and I can honestly say that every time I feel a breakout coming on, this thing stops it in it's tracks. The how-to of each electrical cocktail is different, and Melanie has videos you can watch during your application to ensure an easy process. I feel like I'm actually making a difference in my skincare regime for the first time in awhile—to both prevent hormonal breakouts and the fine lines forming around my eyes at this ripe age of 26. 😉
Maintenance?
The device comes with a cleaning cloth to use after each treatment, and a charging port when needed (I've been using mine about 4 times/week for 1 month and still no need to charge!). You do need to continue buying the Golden Conductive Gel. One major plus: Melanie is continuing to update the app with new skin cocktails—and an exciting release is coming to target hyper pigmentation. Once you have the device, all of these new science-backed skin cocktails are free!
Verdict?
If you're a skincare/beauty junkie and you get at least 2 facials per year plus 3+ luxe skincare products—you've already spent more than you would for a one-time Ziip purchase. If you can swing the initial cost and re-fills of the gel every few months, I highly recommend the investment.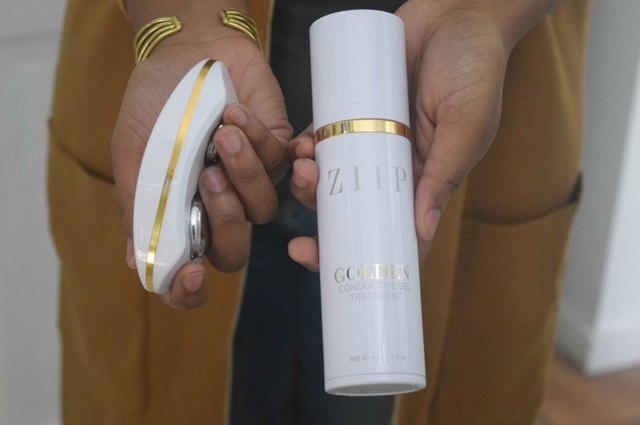 DERMAPLANING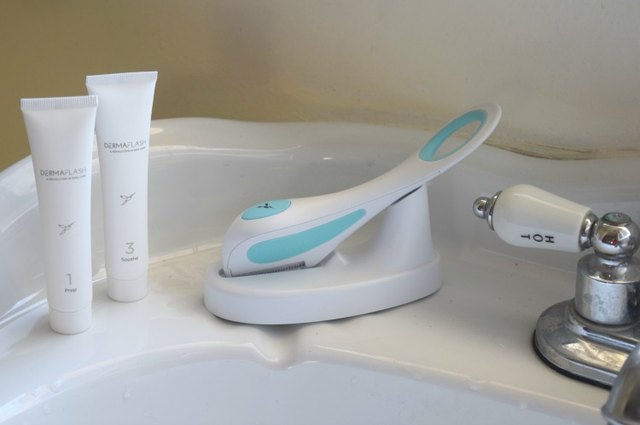 This device ($189, Dermaflash) is the first device to use patented technology for the removal of dead skin cells and debris by way of a razor-like edge. Dara Levy, founder of Dermaflash, says, "...this little magic wand removes dead skin and built up debris from the skin's surface, while also getting rid of peach fuzz on a woman's face." You can literally see the dead skin being "shaved" off the face, without any redness or irritation afterwards. It's great for makeup prep, too, since the skin is so smooth sans peach fuzz afterwards.
The Dermaflash comes with a prep cleanser and hydrating lotion specifically designed for use with this device. I was a little nervous that my peach fuzz would grow back darker and more coarse, but it's just the same! This is an easy-to-use, unique way to exfoliate and reveal younger looking skin in 10 mins.
Maintenance?
The edges that come with the Dermaflash are single-use (and it comes with 6). The refill pack for the edges, cleanser and hydrator is $39.
Verdict?
This is a really cool device to use once/week in lieu of an abrasive exfoliant. It works for all skin-types, but again, anyone with active blemishes should be weary—it's a great tools for those with acne scars or hyper pigmentation, though.
LED FACE MASK
OK, this might look a little scary, but hear me out. LED masks ($87.19, Amazon) have had a pretty big Instagram moment due to the likes of Kourtney Kardashian and Jessica Alba last year, and for good reason. The lights emit different photon therapy functions, the Red stimulates collagen and elastin to reduce fine lines and wrinkles, the Blue kills bacteria associated with acne and sensitive skin, and the Green balances hyper pigments, speeds up the healing process and lightens scars. It's recommended to use this for at least 20 minutes per day, every day, choosing the color for your skin needs - you can also mix it up. By now, every one in the LEAF office has one of these and there are no complaints. I can definitely feel my skin brightening and "plumping" after the Red, and stubborn scabs heal more easily after the Green, yet I can't tell if the Blue is actually doing anything to kill the bacteria in blemishes. Yet again, who has the time every single day to put on this mask? It's a commitment, for sure. It's important to note that we're using this version which is less than $100 on Amazon, but there are LED masks that go up to $1,800 (Shani Darden). It's recommended to use a pure hyaluronic acid serum before use and your other targeted serums/moisturizers (retinol, etc.) after use, for better absorption.
Maintenance?
This unit comes with a charging port and all the necessary tools to use with ease. Simply wipe down with a rubbing alcohol doused cotton pad after use.
Verdict?
If you're really committed to a nightly routine, this is worth the investment. There's low-risk and it makes you feel like you're doing something really luxe. Also, Erin Falconer (LEAF co-founder) has been using this for almost a year and her skin is 100%.
We want to know what you would invest in, why, and any other beauty tools we missed! Comment below or tweet us @leaftv!