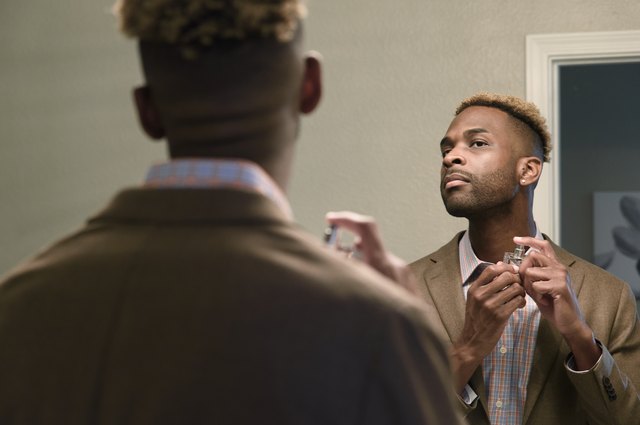 KOLOstock/Photodisc/GettyImages
From early 2000s trends that saw bright unisex scents dominate the conversation to the latter-day reign of Axe body spray – which oftentimes leaves passersby feeling like they've been hit by a monster truck full of dude – fragrance can be a fickle thing. However, like a good Eames chair or a pair of Levis 501s, certain colognes have stood the test of time however quietly. No matter your budget, these old-school eaus manage to be classically masculine without coming off as overbearing or tacky, and like masculinity, they span a wide spectrum.
Paco Rabanne Pour Homme
While Paco Rabanne's popular 1 Million cologne managed to move 1.2 million units in the U.K. alone between 2015 and 2017, Pour Homme – originally introduced in the midst of a designer men's fragrance boom in the early 1970s – doesn't get much play anymore. You should change that for a few different reasons.
The O.G. Paco is a fougère, a family of fragrances defined by sweet top notes grounded by sharp, woody scents. "Fougère" means "fern" in French, which makes perfect sense when you smell Paco's lavender-geranium give way to honey-tobacco. It's confidently manly but sharp and fresh enough to ensure that you won't smell like your grandpa.
Price: About $50 to $55 (6.8 oz.)
Vétiver by Guerlain
If you're bothered by the chemical-like tinge that defines modern colognes and sprays, and you happen to think that the ideal scent for a human being is a verdant forest at the crack of a misty dawn, then Vétiver by Guerlain will always be here for you.
This classic French bottle from the '50s is the grassiest of the bunch (which only makes sense, as it's named for a type of tall perennial grass), but that rich grass is livened up a bit by bergamot, nutmeg and tobacco notes. Vétiver manages to be peppery and sober at the same time, a scent that its creator calls an "evocation of the world's first morning," which is probably a pretty good thing to smell like.
Price: About $50 to $55 (6.8 oz.)
L'eau d'Issey Pour Homme by Issey Miyake
Celebrating its 25th anniversary in 2019, L'Eau d'Issey Pour Homme is the perfect accent to a '90s-inspired wardrobe. Of course, you don't have to rock a neon windbreaker or a flat top to appreciate this eau de toilette's energetic minerality. Fresher than your average retro men's scent, L'Eau d'Issey's cardamon and grapefruit top notes, sage and lavender middle notes and woody, white patchouli base really make it pop.
As GQ puts it, "If L'Eau d'Issey were a tea blend, it would have remedial powers." Wear it to your next matcha date.
Price: About $60 to $65 (6.8 oz.)
Acqua di Parma Colonia
Acqua di Parma might be the priciest option on this list, but it's the cologne that your nose smells when your brain thinks "cologne." That's little wonder, considering that Colonia has been around since 1916. In many ways, this is one of the bottles that defines what we think of as cologne.
Damask rose, sandal and woody vetiver make up the warm heart of Colonia, lemon, orange and bergamot brighten things up and rosemary and verbena lend the whole thing a subtle complexity. Over a hundred years into the game, Acqua di Parma isn't going anywhere, and that's a fact that your next black-tie date will thank you for. Like an Italian sunrise, it's difficult not to like it.
Price: About $75 to $85 (3.4 oz.)