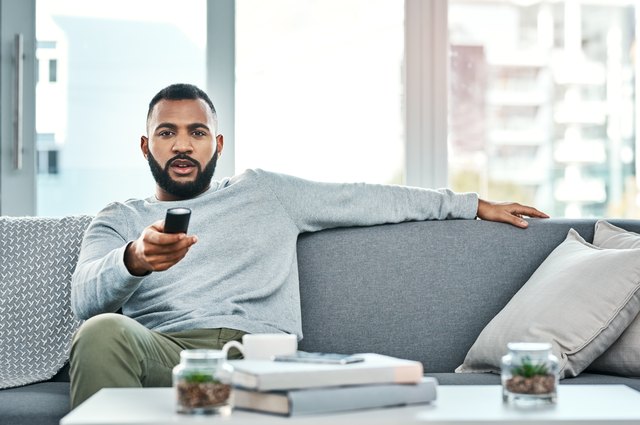 Dean Mitchell/E+/GettyImages
You know a thing has reached peak cultural saturation when that thing becomes a verb. Now that "Netflix and chill" is a legit pastime, we're absolutely there with the eponymous streaming service, which has about 139 million paying subscribers in 2019.
However, with streaming services splintered into about 1.4 trillion different options, Netflix's library now focuses mostly on original content ($13 billion worth annually), leaving movie buffs and legacy TV aficionados in the dust. Among the head-spinning amount of alternatives, these lesser-known services have you covered and then some – just as long as you're willing to think outside the binge.
Curated Cinema: The Criterion Channel
Out of the ashes of the short-lived but well-loved FilmStruck app, the Criterion Channel rose to life in 2019. In addition to continuous access to Criterion's library of over 1,000 classic and modern films, this hand-curated service offers a rotating selection of art house, indie and international films every month.
You'll find innovative double-feature pairings, quirky shorts, robust collections sorted by director, theme or cinematographer and absolute droves of supplemental content, including intros to some beloved films from famous fans like Guillermo del Toro, Julie Taymor and Bill Hader.
The Criterion Channel will run you $10.99 a month or $99.99 a year, with apps for Apple TV, Amazon Fire, Roku and iOS and Android devices. If directors like Akira Kurosawa, Jean-Luc Godard and Ingmar Bergman or collections like "Women Filmmakers," "Photoplay" or "Martin Scorsese's World Cinema Project" get you fired up, you might just want to add "Criterion and chill" to your vocabulary.
Free and Enlightening: Kanopy and More
Kanopy sums itself up better than we ever could: "Be entertained, be enriched." This app's focus is on thoughtful entertainment provided in partnership with public libraries and universities, but don't be fooled – "thoughtful entertainment" doesn't just mean educational content. Yes, Kanopy has plenty of children's shows – from Babar to Curious George and beyond – and seemingly countless documentaries, but it's also stacked with new-release movies, classics and cult films. If you want to watch "Lady Bird," "Eighth Grade," "Harold and Maude" and "An Inconvenient Truth" in the same place, give Kanopy a hard look.
Oh, and here's the crazy part: Kanopy is completely free. As long as you have a library card from an affiliated library (and you should), you get 10 free play credits per month – each good for a full movie – with no commercials and no strings attached.
Kanopy has apps on iOS, Android, Roku, Chromecast and Amazon Fire, but it's not alone in the world of high-quality, free streaming services. Sony Crackle hosts completely free Sony movies, shows and originals ("El Mariachi," "Fight Club" and "Drive" are some highlights), while Tubi's collection spans thousands of feature titles from Lionsgate, MGM, Paramount, Starz and more. Both services are ad supported (so you'll have to endure short commercials) and are available on all the usual suspects as well as PlayStation 4 and Xbox One platforms.
Find Your Niche
Somewhere along the line, maybe at some point after the 20th Marvel movie, "nerd" stopped being a bad word. That's a beautiful thing, because everyone should be free to revel in all those peculiar interests that make us fully textured human beings. Here's a quick look at some under-the-radar streaming services that celebrate your thing, whatever your thing is:
Shudder ($4.75/month annually, $5.99/month monthly): Shudder does one thing and does it well

–

it's all horror, all the time. If flicks like "The Texas Chainsaw Massacre," "Phantasm" and "Re-Animator" divided into curated lists like "Slashics" and "Zombie Jamboree" make your inner horror buff scream, this one's at least worth the free seven-day trial.

Dekkoo ($9.99/month): Dekkoo proudly boasts the largest collection of gay entertainment available anywhere, specifically targeting gay men. There's camp, docs, erotica, originals and classic content like "Bent" and "Queer as Folk."

Shout! Factory TV (free): If you occupy that space on the Venn diagram where Quentin Tarantino trivia and cult movies meet, Shout! Factory TV is more than worth the price of (free) admission. Get your fill with celebrations of kitsch like "Mystery Science Theater 3000," cult TV such as "ReBoot" and "The Weird Al Show" and more pulpy grindhouse and exploitation movies than you can throw a 35mm reel at.

* Crunchyroll (free with ads, $7.99/month premium): Crunchyroll focuses on a cornucopia of contemporary and vintage anime ("Attack on Titan," "JoJo's Bizarre Adventure" and "Berserk" are just a few) and simulcasts straight from Japan, but it doesn't skimp on live-action drama and superhero series either, from "Death Note" and "Time Taxi" to lots and lots of "Ultraman."