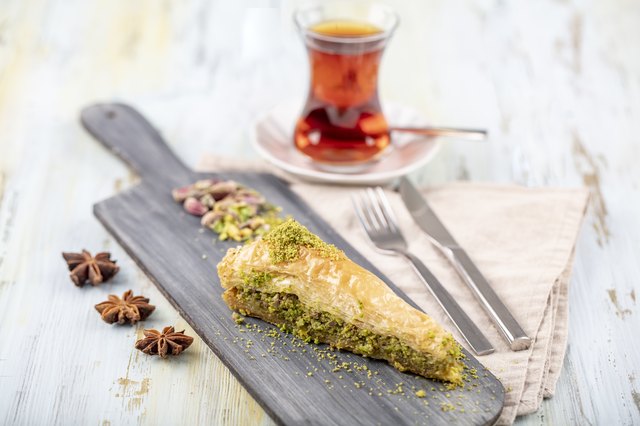 asikkk/iStock/GettyImages
If you've ever eaten at Greek or Mediterranean restaurants, chances are you have seen baklava listed on the dessert menu. The light, nutty and intensely sweet dessert is often served in small, diamond-shaped slices or squares and is perfect for topping off a large family meal or serving yourself with an indulgent treat. Baklava is typically served with an espresso or often with a very strong and thick Turkish coffee.
Turkish coffee is usually accompanied by a slice of Turkish delight, a sweet gummy candy, or a sugar cube to cut the coffee's strength, which is why baklava is the perfect sweet treat for dessert that cuts through the acidity of after-dinner coffee. While pre-made baklava can be purchased from the frozen section of some grocery stores, making fresh, homemade baklava is not as difficult as it may appear. With a few tips and an easy baklava recipe, you can impress your friends and family by pulling a pan of baklava from your oven in no time.
What Is Baklava?
Although no one is entirely quite sure of baklava's origins, many believe that this sweet and sticky treat hails from the area between Greece and the Middle East. The earliest dishes that resemble baklava came from Mesopotamia (Greece, Turkey and Mongolia) during the 8th century. The version we are most familiar with today stems from the 15th century during the time of the Ottoman Empire. The modern dessert we now eat has also been influenced and tweaked by influences from the regions of the Mediterranean, the Balkans and the southern Caucasus countries like Armenia.
Though a rich dessert, baklava is light, thanks to its many layers of phyllo dough, and sticky from the syrup or honey that is poured over the nut-filled layers. Sink your teeth into the buttery layers crisped by caramelized sugar and a mix of toasted nuts. No matter what iteration of baklava you make, the dessert is sure to be a satisfying end to a large and heavy meal.
Baklava Ingredients
The most important ingredient in baklava is the phyllo dough because it makes up so many layers of the dessert. Layers upon layers of the pastry dough as thin as leaves bookend the filling, a mixture of chopped nuts that can include pistachios, walnuts and almonds. Pistachios are among the most traditional and commonly used nuts for this dessert because they provide depth of flavor while contributing a vibrant green color for a visually pleasing dish. Once the layers are completed, an extremely sticky sweet syrup is poured over the top of the entire pan. Sometimes honey is used, but baklava is always served at room temperature so your guests do not get stuck chewing on molten sugar and burning their mouths.
Modern adaptations of baklava can include alternative fillings and even savory versions. For example, some baklavas have other ingredients in addition to the chopped nuts, like chocolate chips, slices of fruit and even fragrant herbs and spices, such as lavender and mint. Savory options typically use spinach, feta and pine nuts to make a recipe similar to what is called burek in the Balkans. The cooked spinach and feta make for a salty, savory slice of pie that is easy to eat on the go with your hands. Decide which flavors appeal to you and follow a recipe or get creative on your own with making baklava.
How to Make Baklava
Total Time: 1 hour 40 minutes | Prep Time: 25 minutes | Serves: 24 slices
Ingredients:
2 1/2 cups walnuts, pistachios, hazelnuts, almonds or a combination of these nuts
4 cups white granulated sugar, plus 1/2 cup
1 pound butter or 4 full sticks of butter, melted and cooled for easy application
16 ounces frozen phyllo dough or one package, thawed
2 cups water
1/2 teaspoon lemon juice
2 teaspoons rosewater
1/2 teaspoon cinnamon
Directions
In a medium saucepan, prepare the syrup by combining four cups sugar, lemon juice and water.
Bring to a boil and allow the mixture to continue to boil for 10 minutes, stirring to prevent the sugar from sticking or burning on the bottom of the saucepan.
Add the rosewater and bring back to a boil. Once the mixture starts to boil, immediately remove from heat.
Let the syrup cool to room temperature while you prepare the baklava itself.
Heat the oven to 300 degrees Fahrenheit.
In a clean, large mixing bowl, combine 1/2 cup sugar with cinnamon.
Grease the bottom of a 9-inch by 12-inch pan with butter and cut the thawed phyllo dough to fit the bottom of the pan.
Place two layers of phyllo dough in the greased pan, brushing it with butter. Repeat until half the package of phyllo dough has been used.
Evenly pour 1 cup of the nut mixture on top of the buttered layer of phyllo dough.
Place two more sheets of dough on top of the nuts and brush with butter.
Spread another layer of nuts topped with two more sheets of dough and brush with butter. Continue until all of the nut mixture and phyllo dough are used. The final top layer should consists of two layers of phyllo dough brushed with butter.
Using a sharp knife, first cut the layers into approximately 3-inch squares. Then turn the pan and cut each square on the diagonal to form diamond-shaped servings.
Bake for an hour and 15 minutes until the baklava is golden brown and crisp.
After removing from the oven, pour the prepared syrup over the baklava. Allow the dessert plenty of time to cool and for the syrup to thoroughly soak into the layers.
Tips for Storage
Baklava stores very well and has a stable and surprisingly long shelf life. When stored in a self-sealing container, like a plastic bag or airtight box, baklava will last for two to three weeks at room temperature or in the fridge. Storing baklava at room temperature is better than in the fridge, however, because it keeps the layers crisp. Refrigerated baklava will take on a chewier, harder texture. Keep an eye on the moisture level – when baklava begins to dry out, you will know the dessert is starting to go bad.
Freezing
Baklava can also be frozen before or after baking the dessert. The easier of the two options is to freeze after baking because the prepared dish can go straight into the freezer after it has had plenty of time to cool. Simply cover the dish with aluminum foil after several hours of cooling at room temperature and store for up to four month in the freezer. When ready to reheat, allow the baklava to thaw in the fridge for at least four to six hours.
If you're going to freeze the baklava before baking, line the baking dish with greased parchment paper. This allows you to make the baklava in the dish, lift it out after freezing for a few hours in the pan and wrap everything up securely in several layers of freezer-safe cling wrap. When you are ready to bake the baklava, remove the plastic wrap and slide the dessert back into the pan. Let it rest at room temperature for one hour prior to baking.