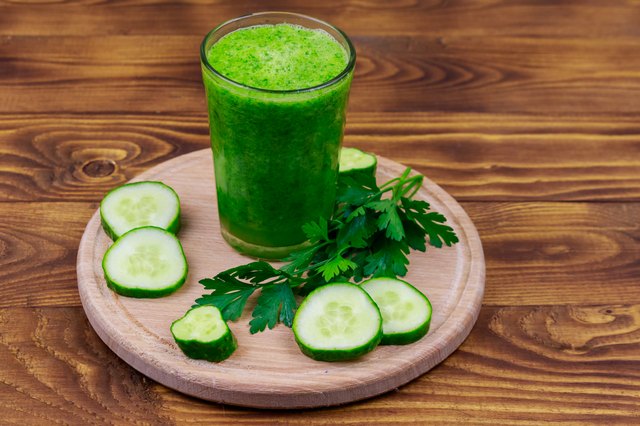 OlyaSolodenko/iStock/GettyImages
Greens, especially those of the leafy variety, are rich in antioxidants, fiber, minerals and other essential nutrients that are good for the body. Yet, eating salads day after day can get boring – hence the sad-desk salad situation. Easy, efficient and portable, a green smoothie is a great way to get a daily dose of veggies and fruits with minimal effort. Learn how to make a smoothie that's full of healthy ingredients, such as a spinach smoothie, just in time to beat the heat.
Go Green for Better Health
Green juices and smoothies are everywhere these days, from the corner deli to the local juice shop. A green smoothie diet may even assist in weight loss when used to replace a daily meal or two, as the increase in hydrating fluids found in many leafy greens combined with water can help the body feel more full. Most green smoothie recipes also typically contain large amounts of water, which help hydrate, boost metabolism and aid in the reduction of bloat. Leafy greens that are rich in antioxidants may help eliminate toxins in a natural manner by flooding the body with pure nutrients.
Fresh Is the Best
A simple green smoothie recipe starts with fresh, leafy green vegetables such as spinach, chard or kale, combined with some fruit like bananas, berries, apples or pineapple. Stop wondering which greens to use and try spinach for a smooth start to green smoothie success. Spinach is fairly flavorless and a natural metabolism booster, making it a great fresh veggie for a green smoothie.
Water, ice, an unsweetened dairy-free milk or coconut water can be added to thin out the smoothie, while also making it easier to blend. Try adding healthful ingredients like celery, lemon, ginger, green tea or matcha, avocado, wheatgrass or spirulina for extra taste and nutrition.
Make a Meal in a Glass
An added bonus of green smoothies is their ability to be easily taken on-the-go, making them an efficient and healthful meal replacement. A green smoothie can even act as a full meal in a glass, packed with several servings of vegetables and healthy fats, and they can be made with ease and minimal effort.
Easy Green Smoothie
This simple-to-make smoothie combines veggies, fruit, almond butter and nondairy milk for a protein-packed and nutrient-dense smoothie that's as easy to sip as it is delicious.
Total Time: 7 minutes | Prep Time: 5 minutes | Serves: 2
Ingredients:
2 cups oat milk or almond milk (for a thicker smoothie, use 1 ½ cups)
2 cups baby leaf spinach
2 cups frozen mango chunks
2 tablespoons smooth, unsalted almond butter
1 teaspoon cardamom, ground (optional)
Directions:
Add oat milk or almond milk and the baby spinach to a high-powered blender. Blend until smooth.


Add mango, almond butter and cardamom.


Blend again until smooth.


Pour into two glasses.


Serve and enjoy!
Matcha, Greens and Almond Milk Smoothie
Matcha is a potent powerhouse of beneficial green tea nutrients including tea polyphenols known as catechins which work well as a smoothie booster.
Ingredients:
1 ½ cups almond milk (can substitute coconut milk)
handful of kale
handful of spinach
1 teaspoon culinary grade matcha
1 tablespoon almond butter
handful of shredded coconut (optional)
Directions:
Blend all ingredients on high in blender until smooth.


Pour into glass.


Top with shredded coconut


Serve, sip and enjoy.
Add these green smoothies into your daily or weekly routine to increase the regular intake of vegetables and gain health benefits. Be sure to thoroughly wash all fresh produce used in making a green smoothie to prevent any chemicals or grit from getting into the smoothie.
You can take them anywhere, from the gym to the office. Simply sip on a smoothie anytime for a healthy, refreshing, filling drink that's as satisfying and filling as a traditional meal!