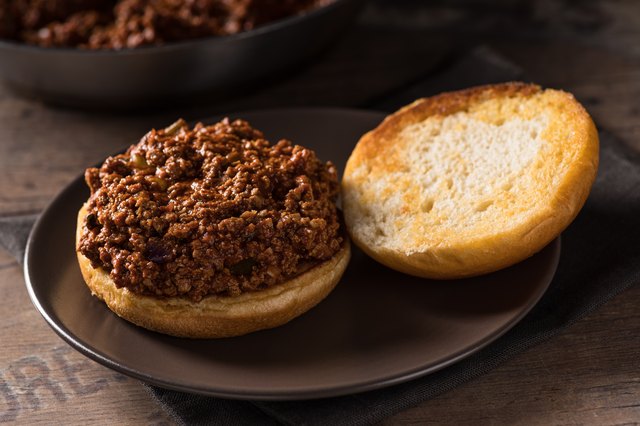 vertmedia/iStock/GettyImages
According to foodie lore, the foundational sloppy Joe recipe originated in a Cuban bar frequented by heavy drinkers. The bar's owner (known as Joe to his American guests, though his real name was Jose) came up with a combination of meat and bread that he reckoned helped soak up all that booze. The story goes on to claim that it was none other than Ernest Hemingway, a regular customer at Joe's bar, who brought the concept to the United States by way of Key West, Florida. In fact, there's an establishment called Sloppy Joe's that even now declares its own version of the sandwich is the bona fide original U.S. version.
Somewhat undermining this account is the fact that homemade sloppy Joes became popular all over the U.S. during the Great Depression of the 1930s. It made sense for families who had to make the most of the little they had. By using a sloppy Joe recipe, they could turn a little ground beef into a hearty family dinner. The sandwich has remained popular over the years because of its infinite variety, ease of preparation and, yes, budget friendliness.
One-Pan Sloppy Joes
Total Time: 40 minutes | Prep Time: 20 minutes | Serves: 6 to 8
Ingredients:
1 1/2 pounds lean ground beef
1 medium onion, chopped fine
2 ribs celery, chopped fine (remove outer strings first)
3 cloves garlic, minced
1/2 cup apple cider vinegar
1 (15-ounce) can crushed tomatoes
1/4 cup ketchup
2 tablespoons brown sugar
1 tablespoon Italian seasoning
1 teaspoon smoked paprika
1/4 teaspoon ground black pepper
1 teaspoon kosher salt
6 to 8 hamburger buns
Directions:
In a large pan, cook the ground beef until browned.


Strain the fat from the meat using a fine-mesh colander. Discard fat and return meat to pan.


Add onion and celery to the skillet. Cook until softened about five minutes.


Add garlic and cook an additional 30 seconds.


Add the apple cider vinegar. Stir, scraping up the little browned pieces on the bottom of the pan.


Add remaining ingredients, except the buns, and bring to a slow boil.


Reduce heat to medium-low, cook for another 25 to 30 minutes or until the meat is cooked through and your sloppy Joe mix reaches the desired consistency.


If too thick, add tomato juice, broth or water to thin it out.


As meat mixture cooks, toast the buns on a baking sheet, cut-side up, in a 350 F oven for about five minutes, or until lightly browned.


Taste for seasonings. Adjust if desired.


Make sandwiches using about 1/2 cup of the mixture per bun.
Serve with potato chips, coleslaw and bread & butter pickles.