How do you take your eggs? It's a common topic that pops up here at LEAFtv, the nutritional value and versatility of eggs are hard to beat. In paid partnership with Eggland's Best, we asked this question to our favorite food bloggers, and ended up with a few exclusive and delicious recipes that you can make at home. Below, watch Claire Thomas of The Kitchy Kitchen take you through a classic recipe with a twist: Breakfast Bruschetta!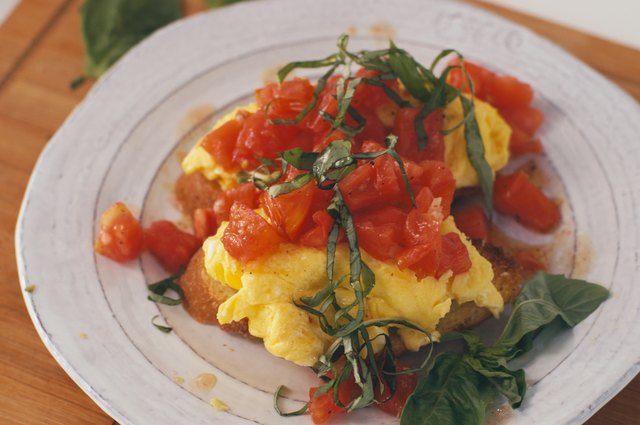 Bruschetta is a common appetizer that generally consists of great bread, tomato, garlic and olive oil. Here, Claire is turning this timeless app into a full-on meal, "I'm adding Eggland's Best eggs, for great protein and delicious flavor," says Claire. So, next time you're in a rut for breakfast (or lunch or dinner!), consider this classic dish topped with nutrient-rich eggs for a fully balanced meal in 20 minutes or less. 😉
Ingredients:
1 large heirloom tomato, diced

1 garlic clove, minced
Salt & pepper
Olive oil
Baguette (or your favorite bread)
4 Eggland's Best eggs
1 tsp water
Basil
Instructions:
Combine the heirloom tomato and garlic in a small bowl, season with salt and pepper and a healthy drizzle of olive oil. Set aside for 15 minutes.

Toast 2 slices of bread until crisp (oven or toaster work just fine).
In a bowl, whisk the Eggland's Best eggs plus 1 tsp of water (the water makes the eggs super fluffy).
In a small saucepan over medium-heat, add 2 tsp olive oil and once hot, add whisked whole eggs.
Stir constantly for about 10 minutes until the eggs appear to be a custard.
Place scrambled eggs on toast and top with tomato garlic mixture, chiffonade of basil and a drizzle of olive oil.