The Summer Solstice is the main event of this month, saturating Gemini season in the energy of prosperity and light. The two moons of the month fall in the signs of Gemini and Capricorn, respectively, and encourage us to put our creativity into action. This month is all about trial and error and finding your process of creation. It is an auspicious time to manifest. Read your monthly horoscope to find out what you should be paying attention to in order to make the most out of this bountiful month.
Gemini (May 21 - June 21)
Happy Solar Return, Gemini! This year, your birthday month brings you a heightened sense of intuition and sensitivity to your surroundings. It may be best to celebrate by making a getaway, for however long you can, with the friends and family that you love and trust. 2018 has already been a big year for you but your Solar Return brings some brand new energy to use to your creative advantage. Schedule in plenty of time for inspired self-expression and focus on strengthening the bonds you already have rather than trying to initiate new ones. People are noticing you and the way you shine now more than ever. This means that some may try to get near you just to get light and give little in return. Keep your mind laser-focused on your grand plan and know that you don't need anyone else but yourself to succeed. Protect your magic and keep your confidence high and exactly what you want and need will find you.
Cancer (June 22 - July 22)
All of the planets are moving in your direction now, Cancer, and it's the calm before the storm. Find a safe space to make your own this month, somewhere you can breathe and relax in order to show up to your season with a clear mind and an open heart. Try not to get distracted by what everyone else is doing, fret about the future or dig too far into the past. The present is where you will find the peace you need to connect to your power. Practice being present in your body through breath and meditation and surround yourself with the sights, smells and other sensory experiences that make you feel comfortable and calm. Understand this as a time of incubation. Nourish your body, mind and spirit accordingly. Once the Summer Solstice arrives, your energy will be aligned with feelings of success and assurance and your body will be ready for the change and opportunity to come.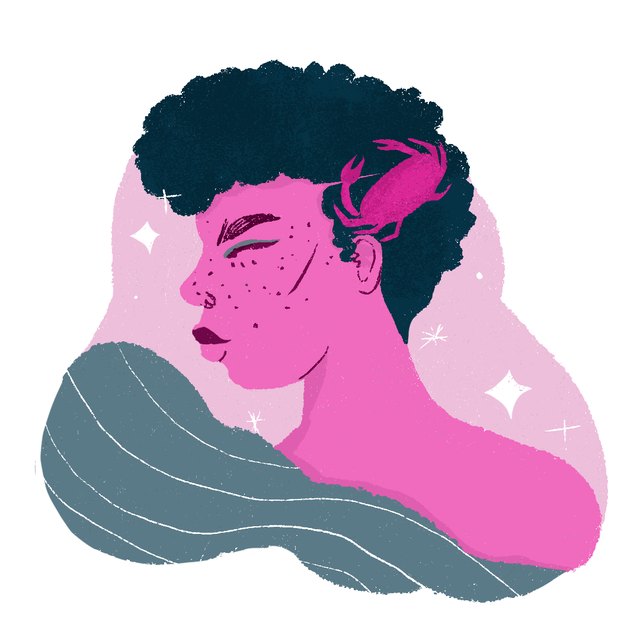 Leo (July 23 - August 22)
Venus moves into your sign this month, making vanity an exciting space to play in. But, it all starts to get a little serious when Mars begins its retrograde in your house of love and relationship on the 26th. This placement is an invitation to assess how you show up in your relationships and how you expect others to meet you. Do the people that say they love you show up as though they do or is it all talk and no walk? Be honest about the way that you have shown up on your end, too. Relationships are spaces of mutual respect and support. If they don't feel reciprocal, the dynamic may not be one to hang onto for much longer. Try not to shy away from conversations that you need to have for the sake of your emotional safety and well-being. Oftentimes, the best breakthroughs come from pushing past discomfort for the sake of honesty and awareness. Aim to give the people in your life a heads-up on how you're feeling so that everyone is on the same page in case a major decision needs to be made.
Virgo (August 23 - Sept 22)
There is so much activity all around you that this month may just feel like a big whirlwind if you let it. The remedy for this is to be strategic about your time and commitments.You have a habit of saying yes when someone needs you regardless of your interest, energy level or what you will get in return. Right now is the time to focus on your own opportunities. It will be much harder to show up fully for yourself when you stretch yourself in anyone and everyone's direction as soon as they need your help. Apply yourself only to what will grow you by making a list of the kinds of projects, parties and acts of service you are interested in committing to, and which kinds of these things you don't want to do, and then stick to it. The less energy and time you have for yourself, the more stress and resentment starts to creep in. Trade the short-lived satisfaction you get from saying yes for the ultimate fulfillment that comes from being boundaries and saving your best efforts for getting closer to your dreams.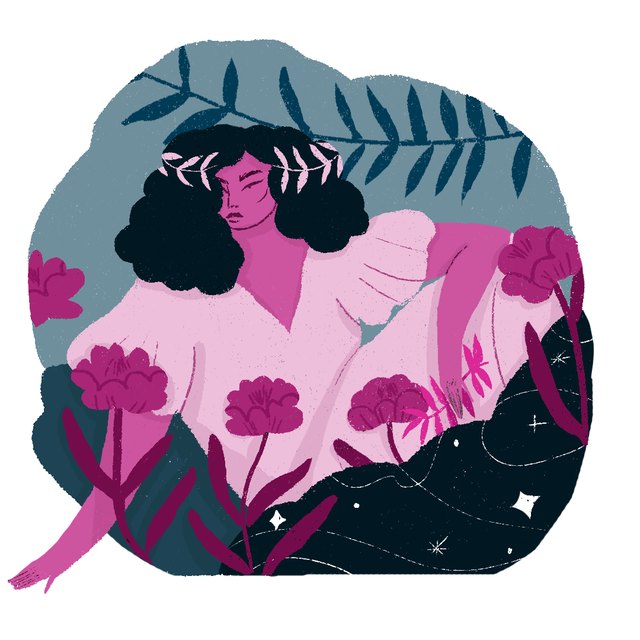 Libra (Sept 23 - Oct 22)
You may feel some confrontation between how fast your ideas are moving and how much your body/physical capabilities and time management can keep up. Make a conscious effort to focus on the current task at hand while still keeping track of other ideas that may take a little more time to bring to life. This month is all about perspective. Focus on how far you have come and what you possess or have accomplished now, that you only dreamed of three to six months ago. Remain in a space of gratitude for all of the creative energy coming your way by honoring any idea with a plan to implement it with care and patience. You have so much to give, but not all at once. Your success this month will depend on how well you prioritize and pace yourself. For you, restraint, intentionality and understanding are what draws the fine line between chaos and accomplishment. Make the conscious choice to choose the latter.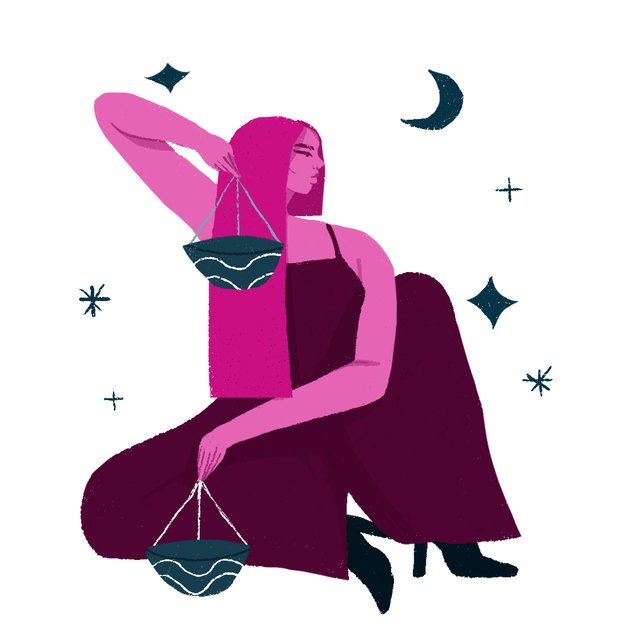 Scorpio (Oct 23 - Nov 21)
Gemini season may feel like foreign territory for you when it comes to surface-level social interaction. You understand yourself and the world around you to be deeper and more complex than that. What you may not understand is that Gemini's energy does not have a lack of depth, but an abundance of discernment as to what they allow themselves to give that kind of energy to. This month, try not to hide behind old narratives about who you are or what you are capable of. Try to open yourself up to interactions that you might otherwise stray from. You may actually find these new ways of connection to be much more refreshing and less exhausting than your default level of depth. With all of the mental work you do on a daily basis to care of yourself and everyone else, to embody the nature of air and a detached interest to information is something you deserve to at least explore, and at best adopt as a mechanism for your own psychic protection.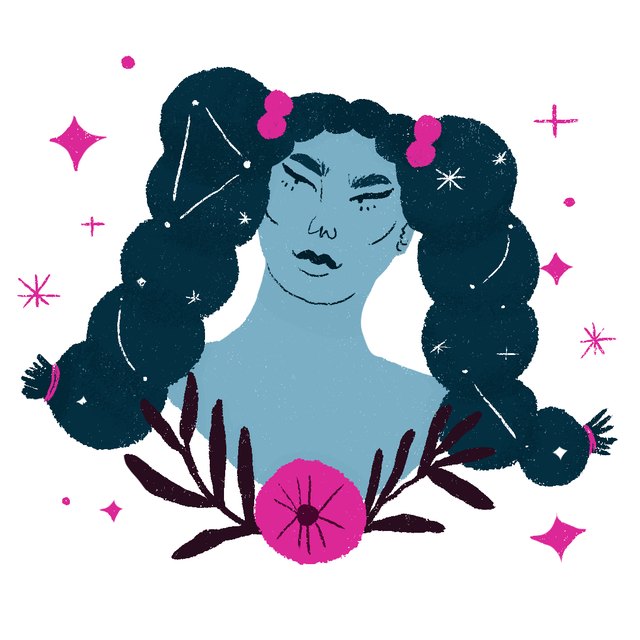 Sagittarius (Nov 22 - Dec 21)
Gemini season means your seventh house of relationship is lit up like a Christmas tree. You are brave and strong-willed and can often mistake the possession of these qualities as stand-ins for vulnerable partnership and intimacy. While it may be true that you don't particularly require companionship to feel fulfilled, relationships can and do offer you what you cannot offer to yourself. This month, dig a little deeper into how connections with others serve you intellectually, physically, emotionally and spiritually. Think through how relationships have enhanced your sense of confidence and stability in the past and how the responsibilities and attributes you possess now could be uplifted by other people. Partnership and friendships are meant to help us fill the gaps. Allow yourself to feel into where those gaps may lie in an effort to get clearer about what your needs are and what kind of people you want to invite in to your adventure of a life.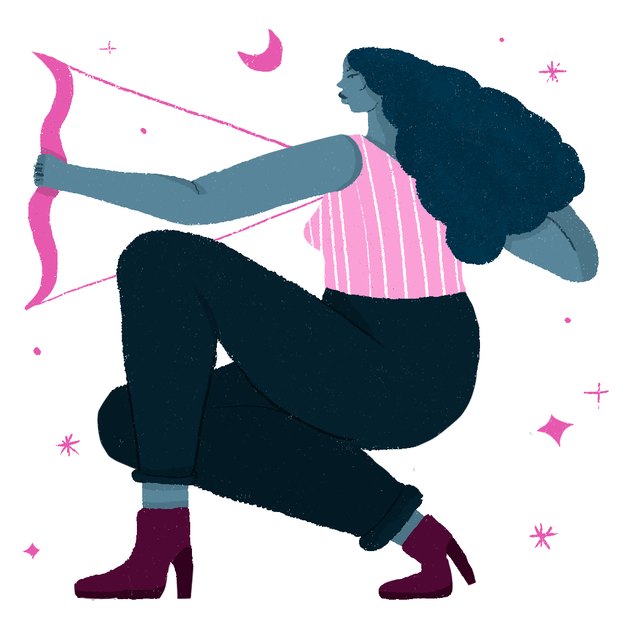 Capricorn (Dec 22 - Jan 19)
The Full Moon of this month lands in your sign while the New Moon illuminates your sixth house of health and daily work. This is the time to reconnect to your body and reassess your hobbies and habits. Now is a great time to clean and rearrange your home, switch up your workout routine and find new ways of expressing yourself through what you eat, wear, watch and, of course, what you do. Choose some kind of practice to do in the morning or night that connects you to your body daily. This will help you show up as present, embodied and empowered as possible to all of the opportunities headed your way. Even positive opportunities can bring stress and anxiety. Try and nip any bad habits that come from stress in the butt by staying on top of your routines, and always coming back and checking in with the vessel that all of your creativity and hard work must be filtered through (your body).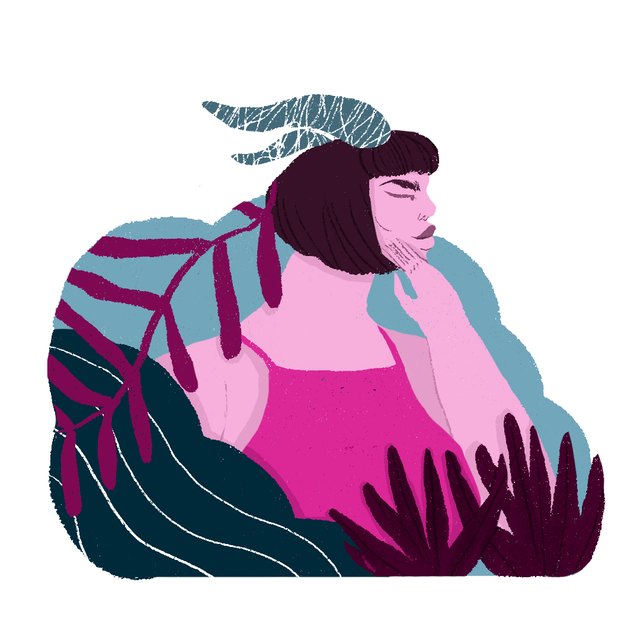 Aquarius (Jan 20 - Feb 18)
Mars begins its retrograde in your sign this month and it may slow you down, a true blessing in disguise. You can be a busy-body at times, as you live in your head and never run out of things to do and people to see. This month, learn what it looks like to prioritize stillness in your life. Try creating pockets in-between your busy schedule to just sit with yourself and be present in your surroundings. Allow your thoughts to wander not from one idea or task to the next, but aimlessly and without expectation. You might want to first start with always sitting down in relative silence for your meals, then increasing to 5-10 minutes of meditation in the morning and then at night. It might seem like if you slow down, your ideas and your life as you know it may all come to a screeching halt, but this is not true. Once your give yourself and your mind some space to breathe, you may actually find that your creativity is boosted and your stamina will rise to match it, a perfect combination for one hell of a fun and productive summer.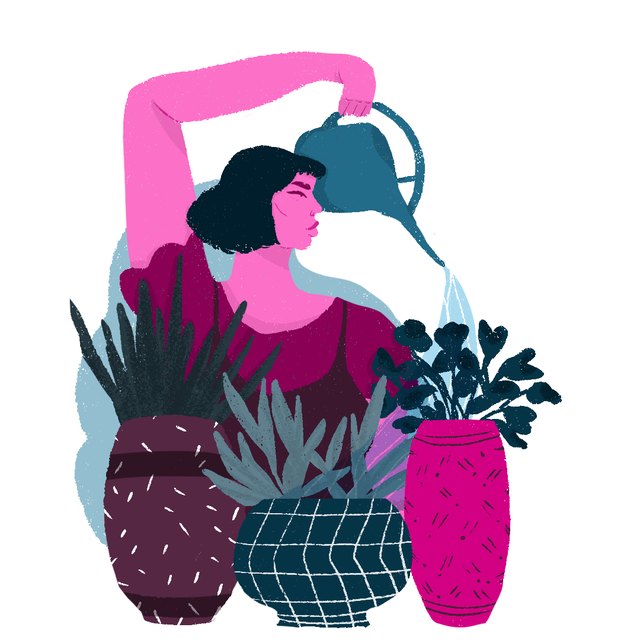 Pisces (Feb 19 - March 20)
As the Summer season settles in, the part of your chart that rules passion and play becomes illuminated. Because of your ability to feel everything around you, you often get swept away in emotion and need alone time to recuperate on your own before you can rejoin the world. This month, focus on setting boundaries that make it safer for you to share space with the ones you love. Whether it's a no-gossip policy or strict rules around what kinds of events you feel comfortable attending, you deserve to let your hair down and have fun knowing you've covered all of the bases for potential emotional mishaps. Check in with yourself about what real, care-less fun looks like for you and communicate that to those you wish to spend time with, along with your conditions for doing so.
Aries (March 21 - April 19)
This month, the retrograde of your home planet, Mars, may keep you from moving at your normal pace. You have a pioneering spirit and never back down from a challenge, but at this time, whatever you push on will just push back. For right now, aim to walk the path of least resistance in your life. Find ways to turn your eye from the prize to the present. Your tendency is always to fight your way through, but sometimes all you need is a little bit of faith and patience. It is a great time to find support from your friends who can help to have your back as you try out a new way of working. This summer is a time to step up to the plate ready to find new and creative ways to make your moves. Once you fully commit to this process, you may be able to find new skills to solve old problems and truly clear your path to success, no strings attached.
Taurus (April 20 - May 20)
This month begins with your planet (Venus) trine to Jupiter, a pair that often provides many things to be grateful for. The only catch lies in your (in)ability to see your blessings. Gemini season will always feel like an extension of yours if you let it, but the headiness of it all may leave you too stressed and overwhelmed to see it. This month, make a pledge to take everything one day at a time. Make a list of the three things that must be tended to each day and leave the rest of your to-do list on pause. Your downfall will always be the weight that you put on your own shoulders, Taurus. Lighten the load through batch-working and scheduling in your down time so that your off days don't just feel like relief from your labor but more like celebrations and indulgences you can be present in. Your planet moves into Leo mid-month and it's the perfect time to let loose. Once you stop stressing about how things could fall apart, you will start to see things fall together in your favor. All it takes is a little shift in your focus.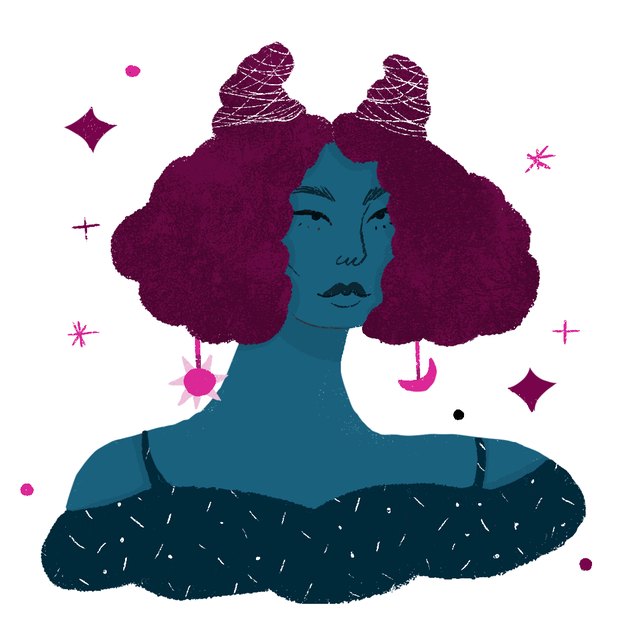 Obsidian Moon Astrology
Jaliessa Sipress is a life-path Astrologer, writer and artist dedicated to making Astrology an accessible tool for navigation and healing. You can find out more about her work or book a private session at obsidianmoonastrology.com.
*Artwork by Loveis Wise.