Welcome to Beauty Brief — where we take a deep-dive into the industry's top-rated skincare, makeup and haircare brands. We test them out exclusively for 30 days, learn from the founders and formulators, and let you know our 100% honest opinion. 👋
"Scent vibes" are a thing. It's the reason you are drawn towards certain products, specific people and places. Scents can take you back to a specific moment-in-time. Sherri Sebastian, Founder & Perfumer of Provision Scents, says, "Odor molecules are everywhere. We encounter more scents in a day than we're often aware of. As a teen, I carefully chose products based on a 'mood' I was trying to inspire. From shampoo to deodorant to lotions, I chose each product based on how the scent made me feel." Provision Scents is one of the most luxurious brands I've encountered recently, and every product is cruelty-free, vegan, sustainably sourced, manufactured in the USA, free of sulfate, parabens and phthalates. The essential oils and fragrances that Sherri uses, such as Clary Sage, Indian Sandalwood and Orange Flower, immediately bring me to a place of relaxation — it's comparable to getting home from a long day and putting your sweats on and letting your hair down.
The line consists of products that are meant to be used everyday to compliment your daily rituals, from making the bed (the Dream Extract linen spray) to moisturizing from head-to-toe post-shower. It's made my shower ritual so much more luxe — I've been using the Manifest Body Oil (probably my fave product), the Align Face Oil (before I shower to eliminate any makeup or sunscreen) and the Purify Deodorant. I also can't forget the Connection Lip Rescue, which doubles as a solid perfume and smells AMAZING.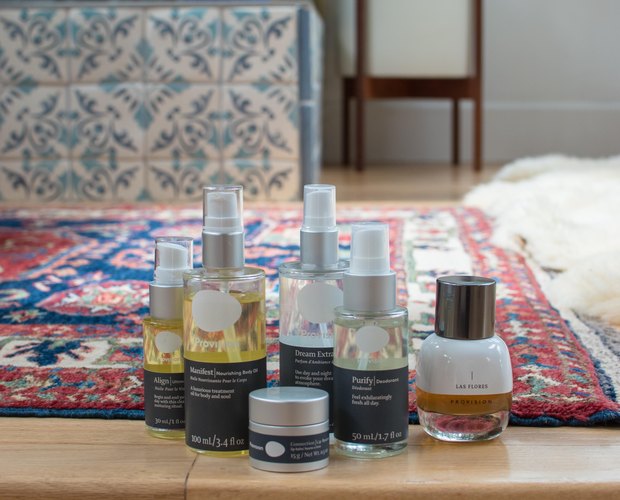 The line isn't cheap, but I can honestly say that at this point, using these products has immensely changed my mood and the way I look at certain moments throughout the day. It's not only about skincare and smoothies, people! Making the bed and doing laundry has become refreshing with a spray of the Dream Extract with Clary Sage and Italian Bergamot. Pre- and post-shower is my FAVORITE with the Manifest Body Oil with Labdanum and Vanilla and the Connection Lip Rescue with Orange Flower... these two products will 100% be re-upped when I'm empty.
I got to catch up with founder Sherri Sebastian, who has been a professional perfumer for over 24 years, to answer a few questions about the line and her experience:
I'm always curious about natural deodorants, and with this one being a spray, how does it even work?
Purify deodorant contains a natural enzyme system that breaks down odor causing molecules. In addition, many essential oils naturally have antimicrobial properties. In the case of Purify, the enzymes do the 'dirty work' while the Vetiver and Clary Sage lightly linger for a refreshed feeling. I don't even wear 'finished' perfumes anymore, my day consists of creating fragrance compositions to follow its projection on skin. My perspective has shifted from perfume 'wearer' to 'observer' but with that said, my go-to daily scent is Purify. It's a natural, yet sophisticated scent that elevates my mood without clashing with my work.
How do you approach beauty as a whole?
Although my beauty routine is relatively simple, I focus on mindfulness each morning and night as I massage Align onto my face and neck. The smell of sandalwood (also used by the Aborigines on their spiritual walkabouts) instantly puts me at ease with a steamed washcloth. I can feel stress and tension dissolve. The bonus is seeing my skin glowing afterwards! The Dream Extract allows me to prepare for a restful sleep each night. When I mist my clothes or air with it throughout the day, I'm reminded of the intentions I set before going to sleep.
Can you explain the shift in sleep you experienced through the clary sage in your Dream Extract?
Before developing the "pillow ritual" with Clary Sage, my mind would be come fixated on my insomnia and whether I'd be able to fall asleep. Once I began to focus instead on the excitement of what could happen in my dreams, going to bed became something I looked forward to instead of dreading. The quality of my sleep improved as a result of feeling relaxed and hopeful each night.
Shop Provision Scents right this way.