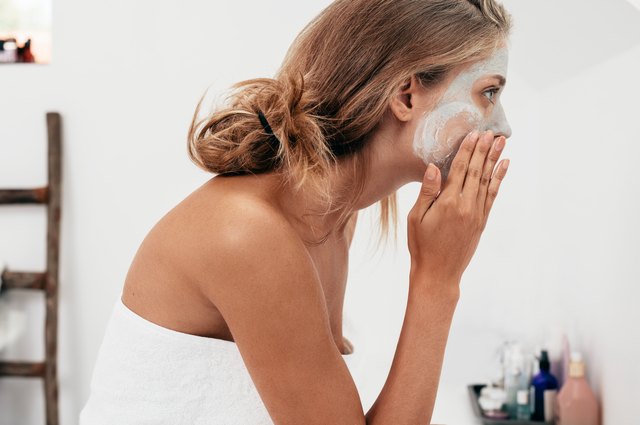 Sunday nights are sacred. These last hours of downtime are perfect for giving skin some extra love, and for claiming every bit of self-care you need and deserve. In fact, make Sunday-night skin care as ritual as cooking Sunday supper or watching Game of Thrones (or whatever you're bingeing at the moment). Here's how to build a routine that'll get you glowing for the week ahead.
Choose a Time and Stick With It
The key to sustaining a routine is discipline. Choose a time that works every Sunday, and stick with it. Maybe that's right before or after your fave show, when you know staying in is the priority. Take at least 30 minutes, or even drag it on for an hour or longer if you're down.
Step It Up
Ten-step skin care is a thing. But it's definitely not for everyone. Choose the steps that address your own skin's needs, but more importantly, choose what's doable. Some women feel happy luxuriating in a steam facial to start (this practice opens up the pores and softens the sebum and dead skin cells that need to be cleansed), but for others, it feels extra. If you fall into the latter category, you should do no less than cleansing, exfoliating and moisturizing. But remember that you get back what you put it, and dedication to multi-step skin care does pay off.
If you're willing to turn Sunday evenings into the one time you really treat your skin to some TLC, here's a suggested regimen.
Step 1: Double cleanse
Keeping skin clean is probably the No. 1 most important thing you need to do to prevent breakouts and look radiant. Double cleansing—first with oil to dissolve excess sebum and makeup, and then with a water-based cleanser or micellar water to clear out residual dirt—is a great everyday practice, but once a week is fine if it otherwise feels like work.
Step 2: Exfoliate
Incorporating a scrub or chemical exfoliator into a Sunday-night routine guarantees you'll do it at least once a week. Exfoliation removes dead skin cells and leaves skin smooth and primed to soak up moisture.
Step 3: Tone
Toner helps balance the skin's pH and also cleanses any last bit of dirt. Infuse toner onto a cotton pad and swipe all over the face.
Step 4: Mask
Instagram selfies don't lie—masking is probably the most fun part of any skincare regimen. Choose a mask based on what your skin craves that week. Maybe hormonal breakouts call for a detoxifying clay mask. Or maybe a dull complexion needs a brightening formula to get you looking your best for an important Monday-morning meeting. Pay attention to the condition of your skin and treat it accordingly. Since most masks are meant to be left on for 10 to 20 minutes, this also a good time for a quick meditation to prep your mind, body and spirit for the upcoming week.
Step 5: Hydrate
Immediately after rinsing off the mask, slather on some moisturizer, which is the other most important step next to cleansing. If you have oily skin, use a light oil like rosehip seed. For dry skin, opt for a heavier moisturizer and boost it with a drop or two of facial oil, Odacité makes great oils meant to be mixed into your heavier cream. Massage the oil or moisturizer in using outward and upward strokes; feel free to prolong this facial massage for as long as possible to promote a healthy glow from within.
Step 6: Apply eye cream
Finish up by gently dabbing on a little eye cream under the eyes with a patting motion, never rub!
And you're done! Bring on the Netflix binge … or go straight to bed. Sleep is your skin's best friend, after all.