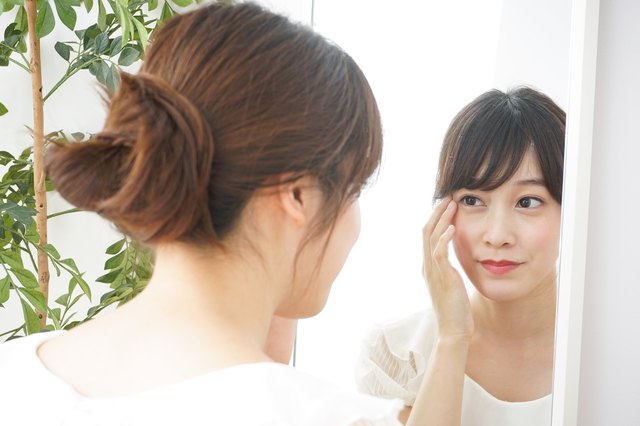 What do K-beauty experts Charlotte Cho (founder of Soko Glam) and Alicia Yoon (founder of Peach & Lily), Korean pop stars, and civilian Korean women in any given city have in common? Aside from their shared ethnicity, they typically boast trademark invisible pores and clear, glowing skin—and often without a trace of makeup. Maybe it's good genes, but that's not all. From a young age, Korean girls are taught the time-honored tradition of a 10-step skincare regimen; and from the looks of their flawless faces, all the effort is worth it.
Korean women also believe that skin care should be treated as a ritual and an ultimate act of self-care. A few well-deserved moments to yourself plus amazing skin—must we twist your arm to get in on this tried-and-true routine? From double cleansing to essence to sheet masks, here's the lowdown on every single step of the luxurious process.
Step 1: Oil Cleanser
Clean skin is the foundation to having a clear and radiant complexion. Cleansing with oil still sounds scary to some people, but don't worry—it's ideal for even the oiliest, most acne-prone skin. The truth is, oil absorbs oil, so oil cleansing actually helps decongest pores and ultimately unclog bumps on the face. Some people like to use straight oils like sunflower, avocado, or sesame to get the job done, but blends like Aromatica Natural Coconut Cleansing Oil can be even more nourishing. Apply 1 to 2 pumps to dry skin, massage in, then rinse off with warm water. For even deeper cleansing, before rinsing the oil off, soak a washcloth in hot water (only as hot as your skin can handle), and press the washcloth against your face for a few seconds to open up the pores and loosen the sebum. Then, gently wipe the cleanser away with the washcloth and do a final rinse.
Step 2: Water-Based Cleanser
Even though an oil cleanser is a beast at removing makeup and excess sebum, following up with a water-based cleanser always does more to dissolve any residual dirt. You can keep it easy by infusing a cotton ball with micellar water and swiping that all over your face just like you would a toner. Or, do a full wash with Cremorlab T.E.N. Cremor Gentle Foaming Cleanser.
Step 3: Exfoliator
The misconception about the Korean skincare process is that you're supposed to do all 10 steps every day and night. Exfoliation is super important, but don't overdo it—two to three times a week is the best practice. Those with dry or sensitive skin should exfoliate less frequently, and oily skin types can get away with doing it more often. Removing dead skin cells this way facilitates better absorption and efficacy of treatments and moisturizers. Avoid harsh scrubs and instead try a peel like Mizon Apple Smoothie Peeling Gel. If a scrub feels more satisfying, choose something gentle like Mizon Seaweed Jelly Scrub.
Step 4: Toner
For a lot of Western women, using a toner is like drinking kombucha—maybe you're not quite sure what it does but you do it anyway, or you're just not a believer. It does serve a purpose, though; it's meant to balance the skin's pH and prep it to absorb ample moisture. Neogen Pore Refine Toner works wonders. Rather than applying a toner with a cotton ball, many Korean women simply pour a small amount into their palms and pat it into the skin. Patting is an essential technique; aggressively rubbing in products can compromise skin texture and lead to premature aging.
Step 5: Essence
Here's where K-beauty innovation really starts to shine. The essence is a hybrid of a toner and a serum (the next step) that boosts hydration and cell turnover. It's slightly thicker than water and meant to further prime skin to reap the moisturizing and anti-aging benefits of the serum and moisturizer that follow. It's especially beneficial for dry skin types. May Coop Raw Sauce is a cult fave that definitely does amp up moisture absorption and retention. Gently press the liquid into your skin.
Step 6: Serum
Also known as ampoules, serums are treatments that contain high concentrations of active ingredients. Which serum you use really depends on whatever issue you need to address day to day. There's something for everyone, and honestly, it's not necessary to use only Korean brands for this step or even any of the others. Odacite and Root Science are two Western brands that have some seriously potent offerings to tackle anything from hyperpigmentation to redness.
Step 7: Sheet Mask
It's no secret that sheet masks are one of K-beauty's most phenomenal—not to mention Instagrammable—creations. These single-use cotton masks are infused with serums to give skin an extra drink. Think of it as a special treat once or twice a week. But if you feel so inclined to mask every day, go for it! There's no shortage of options out there—Asian and Western brands alike have jumped on this trend in a big way.
Step 8: Eye Cream
The delicate eye area is one of the first to show signs of aging, so even if all these steps aren't feasible for you, try not to skip this one. Cremorlab Shadow-Off Eye Cream banishes dark circles and Shangpree S-Energy Repair Eye Cream has major anti-aging power.
Step 9: Moisturizer
Again, if you can only do the bare minimum, consistently smoothing on some sort of moisturizer is fundamental to keeping skin supple and youthful. In Korean skincare, moisturizer comes in many forms: an oil, a gel, or a cream, to name a few. Experiment with what works best for you. If you have dry skin, a cream like Aromatica Calendula Juicy Cream works like a dream. Those with oily skin may prefer a gel like Cremorlab Fresh Water Gel for a matte finish.
Step 10: Sunscreen
Sun protection is non-negotiable. Aestheticians, dermatologists, and Korean women generally agree that the best thing you could ever do for your skin is to cover up with some SPF. It's simply anti-aging rule No. 1, and it also prevents sun damage, which wreaks havoc in the form of spots, redness, and uneven texture. Luckily, K-beauty brands are pretty revolutionary when it comes to sunscreen formulas that are non-greasy and don't leave a white cast. Neogen Day-Light Protection Sun Screen is one of the best. Or look for a BB or CC cream with SPF 30 or higher. Trust—no one ever regretted keeping a tight sunscreen game.
Ten steps to the best skin ever? We're in! Are you?