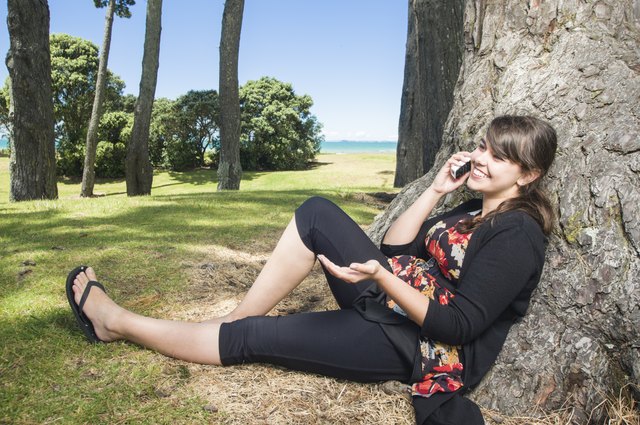 Stolk/iStock/Getty Images
Footless tights aren't just slim-fitting legwear worn by lithe ballerinas and trendy teenagers. When paired with the right wardrobe options, these sleek and seasonless tights work for women of all ages and body types. Whether you want to reinvent your style for the season or put a new twist on your weekend wear, you can take your daytime or evening style to the next level by slipping into a pretty pair.
Viva La France
Unleash your inner Parisienne by wearing black footless tights with a pair of two-tone ballet flats. When worn with a three-quarter length red cardigan and a long, white tunic top, this outfit is perfect for a trip to the store or a late-lunch with your best girlfriends. The long cardigan elongates your body while concealing your thighs and hips. Accessorize with three or four long necklaces over the tunic to add a little glam to your daytime look.
Casual Friday
Matchy-matchy is the way to go if you want to look long and lean when wearing your tights. For work, wear an A-line, charcoal sweater dress with dark gray footless tights. Complete the look with a pair of gray suede ankle boots with chunky heels to balance the dress. Add a handbag in a punchy color and silver accessories to complete your cute and casual Friday look.
Night on the Town
A solid-colored black jacket acts as a blank canvas for a fabulous pair of purple, black and gray footless tights, black heels and glittering accessories. Slip your favorite black jacket over a silk camisole to add a little luxury to your dark-colored tights. For a night of dinner and dancing, rock purple jewelry on your wrists and ears for an unexpected dash of color.
Time for Fall
As the temperatures start to dip, transition from the end of summer into fall by pairing your lightweight summer dresses with footless tights and wedge heels. Slip your tights under an easy, breezy dress for an impromptu lunch with friends or day of window shopping. To create a flirty and feminine fall look, drape a long-sleeved black-and-white silk or rayon dress over dark-colored footless tights and red leather heels. Cinch your waist with a red belt and add silver hoops for an extra dose of polish.