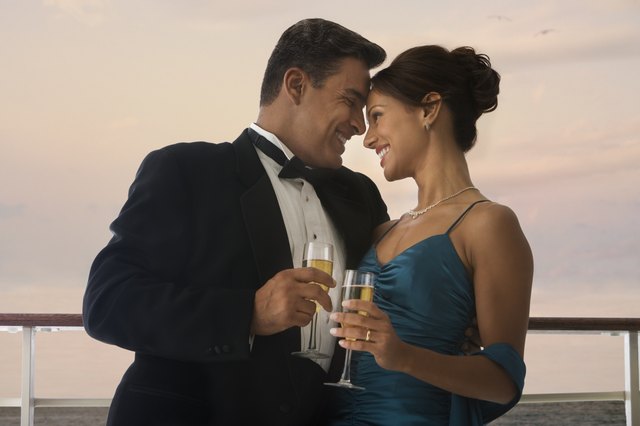 Jose Luis Pelaez Inc/Blend Images/Getty Images
Cruise vacation days are often spent soaking up rays in a bathing suit or exploring your destinations in casual attire. However, after you watch the sun set from your cabin balcony, you have to dress for evening cruise activities. The captain's ball, designated as your cruise's formal night, calls for more than your typical casual beachwear.
Decoding Dress Codes
Whether you're taking a weekend journey or a 14-day high seas adventure, you will enjoy a formal celebration with the captain and crew at the captain's ball. Longer cruises may have more than one captain's gala, while shorter weekend crusies will only have one. Packing at least one formal outfit, then, is essential before you embark on your journey. Fortunately, cruise formal attire is flexible and encompasses an array of options for both men and women, meaning you probably have something in your closet just for this occasion.
Formal Looks for Men
Men have two classic choices for a cruise-ship captain's ball. For a supremely formal look, choose a black tuxedo jacket, bow tie and cummerbund or vest. A black tuxedo jacket with tails, along with a white bow tie and tuxedo pants, is an even more formal option. Dark suits in shades of black, brown or gray are also appropriate for this formal event. Choose a white button-down shirt and conservative tie in a simple pattern, such as stripes. Opt for black patent-leather shoes to finish a tuxedo and black or brown leather shoes with a suit.
Fashionable Styles for Women
Several stylish looks are suitable for a captain's ball. Typically, formal wear for women includes two types of dresses. Floor-length evening gowns in dark colors, including black and navy, are very formal and complement a man wearing a tux. Cocktail dresses are also formal enough for the captain's gala. Choose a silk, satin or chiffon dress to enhance the formality of your look; be sure to avoid casual fabrics like cotton. Embellishments -- think a sequined neckline or sparkly jewelry -- can dress up a cocktail dress. Even a little black dress will work for a captain's ball. Pair your favorite dress with a pair of coordinating high heels or dressy sandals.
Captain's Ball Considerations
Prior to choosing your captain's ball attire, be sure to do your research. First, check your cruise itinerary to determine how many formal nights there are -- you don't want to wear the same outfit to every formal event on the ship. Additionally, some cruise lines offer tuxedo rentals on board the ship, allowing you to be appropriately dressed for the captain's ball without having to rent a tuxedo before setting sail. However, check with your cruise line before you embark, as not all ships offer onboard rentals.