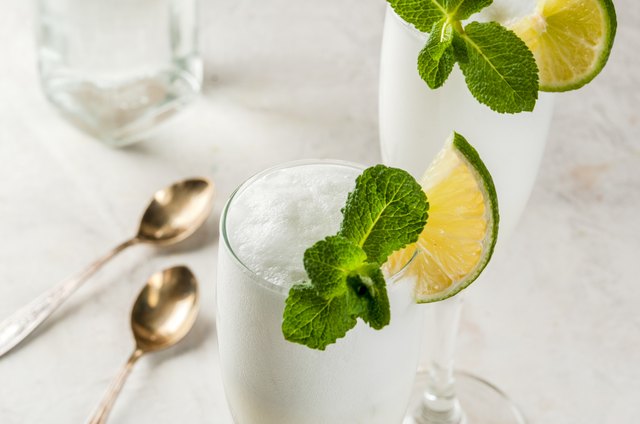 Rimma_Bondarenko/iStock/GettyImages
Whipped vodka is a simply a flavored vodka with a taste inspired by whipped cream. No actual whipping goes into its production, and whipped vodka is as clear as any plain version of the spirit. Take one sip or sniff, though, and there's no mistaking the sugary vanilla flavor and smooth, rich creaminess reminiscent of real whipped cream, accompanied of course by a strong hit of alcohol. Popular brands offering their own versions of whipped vodka include Smirnoff and Pinnacle.
Whipped Vodka's Versatility
For a drink that seems like a novelty (grouped with similar confections such as birthday cake-, marshmallow- and cotton candy-flavored vodkas), whipped vodka is actually quite versatile. It's ideal for after-dinner drinks, many of which can take the place of dessert and satisfy even the most demanding sweet tooth. Whipped vodka also blends beautifully with fruit flavors for refreshing brunch drinks, and it's quite at home in many a chic martini. You can enjoy it on the rocks, in cool cocktails, frozen drinks, shooters, coffee drinks and hot chocolate. It's also a nice substitute for vanilla vodka in cocktail recipes that might benefit from a creamy finish. There's something of a health bonus in this approach, as vanilla and whipped vodkas are similar in calories, but whipped vodka can also replace high-fat cream as an ingredient.
What to Mix With Whipped Vodka
For a simple and refreshing mixed drink with a creamy vanilla flavor, add a shot of whipped vodka to an ice-filled glass and top it up with soda, fruit juice or both. With cola or root beer, you can replicate the nostalgic flavors of a float, and by using orange soda or orange juice, you have an adult Creamsicle. Lemonade, plain club soda, Dr. Pepper and ginger ale also blend nicely with whipped vodka, and you can use diet sodas if you want to cut calories. Iced or hot coffees, hot chocolate and chocolate milk are also delicious with whipped vodka.
Whipped Vodka Cocktails
Many classic vodka cocktails make great vehicles for whipped vodka. Black Russians – vodka and coffee liqueur – and white Russians with the addition of milk (dairy, soy or nut if you prefer) are a treat when made with whipped vodka. Any cocktails featuring Baileys Irish cream, chocolate liqueurs, amaretto (almond) liqueur and berry liqueurs complement whipped vodka. Use it in fruity drinks like daiquiris and piña coladas, blended or served over ice.
After-Dinner Drinks With Whipped Vodka
Many recipes for cocktails with whipped vodka take inspiration from desserts, in which the spirit's vanilla and cream flavors are quite at home. If you're tempted by a slice of apple pie a la mode, make yourself a cocktail using whipped vodka, apple schnapps, apple cider and a swirl of caramel sauce. Try a similar version inspired by peach pie by using peach schnapps instead. If chocolate desserts are more your thing, prepare cocktails featuring chocolate liqueurs like creme de cacao, perhaps along with a coffee liqueur like Kahlua. Many of these kinds of drinks feature cream, but you can lighten the fat and calorie contents by substituting low-fat milk or a nut milk.