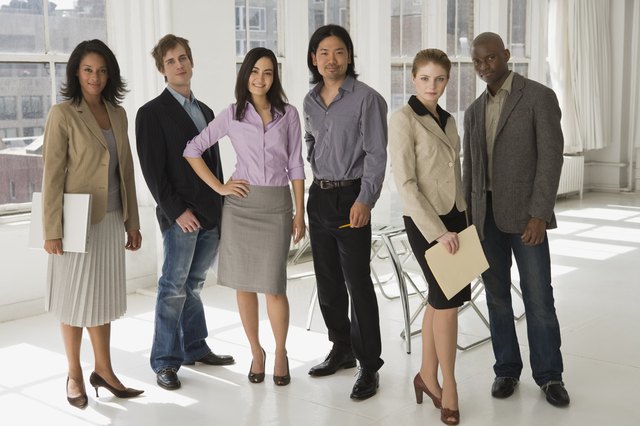 Comstock Images/Comstock/Getty Images
Semi-casual dress tends to lie a step above casual and a step below smart or business casual on a dress code scale. According to BellaOnline Etiquette Editor Lisa Plancich, semi-casual attire means feeling relaxed and comfortable, without looking like someone who forgot to change out of her pajamas.
General Rules
Appropriate semi-casual dress will vary by geographical location, event, and work industry. According to BellaOnline, dark and neutral colors are always safe options. Nice sandals are appropriate for warm weather, as well as hats, gloves and shorter length coats for colder weather.
Day Dress
Daytime semi-casual dress for women may include items such as a knee- or ankle-length dress, khaki pants, a knit sweater set or pullover, and light colored hosiery. Women may accessorize their outfits with a patterned scarf, or a piece of jewelry like a pin or broach, according to BellaOnline.
Evening Dress
Dress Code Guide online states that during evening events women may wear skirts to the knee, neatly pressed blouses, dark slack suits or khakis, and a low pump shoe.
Fabric Considerations
While semi-casual fabrics are typically smooth to the touch, it is acceptable to wear a warmer, textured fabric like corduroy during colder months.
Don'ts
Sweats, holey jeans, band or logo T-shirts, and extensive amounts of jewelry and accessories are never appropriate options for semi-casual dress.
References