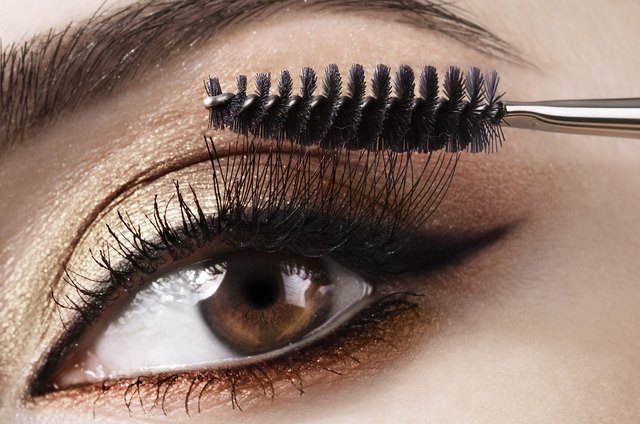 IngaIvanova/iStock/Getty Images
Mascara formulations vary from one product to the next, but most varieties have some key ingredients in common. Protect your health by avoiding mascara containing parabens, which prevent bacterial growth, but are associated with endocrine disruption. Thimerosal, another cosmetics preservative used in some mascaras, may cause a rash, so give it a pass as well.
Common Ingredients
Most mascaras contain pigments made from iron oxide or carbon black to color lashes, supported by a coating polymer and a wax or oil to thicken the preparation. Castor oil, paraffin wax, mineral oil and candelilla wax are also common thickeners. Many mascaras contain substances that condition lashes, like isopropyl myristate, and silicone products to make them glide on easily.
Water and Mascara
Water is commonly used to make mascara, but as you might expect, products containing H2O aren't waterproof. Mascaras without water -- or only very small quantities of it -- are likely waterproof and won't run if your eyes get wet.