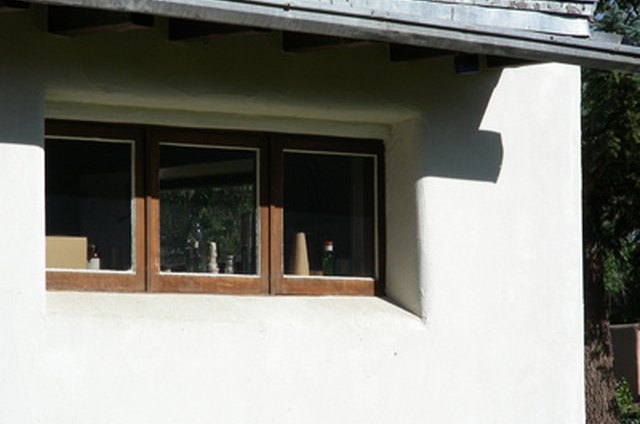 Windows to the kitchen of an adobe house in the Southwestern USA image by John Sfondilias from Fotolia.com
Liquid silver is a popular and attractive type of jewelry. Liquid silver jewelry is composed of one or more slender, delicate-looking strands of shiny sterling silver; the strands are so sleek and pliable, they appear to be made of liquid. Each strand looks like one unbroken piece of flexible, fine silver. This, however, is an illusion. Liquid silver has an interesting structure and unique origins. It comes in many forms and is easy to care for.
Structure of Liquid Silver
While it appears to be made up of strands of solid, unbroken silver, liquid silver is actually made of tiny sterling silver beads. The beads are slightly elongated and oval in shape. They are strung on fine, durable beading cord. The silver beads are arranged so close together when strung that they provide the illusion of being one solid strand of silver. Because it is made of tiny beads, liquid silver has a distinctive, almost undulating quality; it flows and moves with eye-catching ease.
Origin of Liquid Silver
Liquid silver originated among American Indian artisans and craftspeople. American Indians developed—and continue to develop—numerous styles of jewelry that are popular among all types of people and cultures throughout the world, including jewelry made with hammered silver, turquoise stones and small, colorful seed beads.
Geographical Region Associated with Liquid Silver
Liquid silver is associated with the Southwest region of the United States. Like turquoise jewelry, a lot of liquid silver jewelry is produced by American Indian artists who belong to tribes that call the Southwest home, such as the Hopi, Zuni and Navajo. Liquid silver jewelry is a prominent offering of many jewelry retailers in the Southwest as well as online retailers who specialize in Southwestern-style or American Indian jewelry.
Types of Liquid Silver Jewelry
Liquid silver jewelry comes in many forms. There are liquid silver necklaces, which may be composed of one or more strands of liquid silver; some have dozens of strands, which creates a truly shimmering, liquid effect. There are also liquid silver bracelets; like necklaces, they may be made with just one strand of liquid silver or of several. Finally, there are liquid silver earrings, which tend to be long and dangling. They may have looped strands of liquid silver.
Caring for Liquid Silver
Liquid silver is relatively easy to care for. Like other types of sterling silver jewelry, it will tarnish with time. To keep liquid silver clean, shining and tarnish-free, gently wipe each strand with a silver-cleaning cloth designed especially for polishing silver jewelry. Store liquid silver jewelry in soft cloth pouches to protect it from dust and prevent it from being scratched.