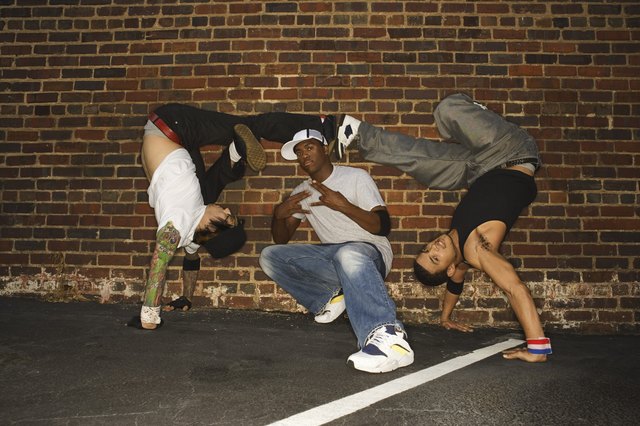 Thinkstock/Stockbyte/Getty Images
Hip-hop dancers have a cool, flamboyant style that gets inspiration from rappers' wardrobes and urban street wear. A hip-hop dancer's signature style typically consists of loose-fitting clothing that allows for free movement when dancing. But the 21st century brought some skate culture into this style, so more form-fitting clothes have also been thrown into the mix. If you want to dress like a hip-hop dancer, build around staples such as sweatpants, oversized tees and high top sneakers.
Oversized Tops and Button-Downs
Oversized tees are popular shirts among hip-hop dancers of both genders. These tees often feature a reputable street wear brand -- such as Nike or Stussy -- or a well-known rapper like Tupac or Biggie Smalls.
Guys are also known to sport a patterned button-down or neutral-colored tank top. Girls often opt for a colored camisole because its simplicity and lightweight material allow for unencumbered dancing. Off-the-shoulder tops are popular with female hip-hop dancers as well.
Other common hip-hop tops include solid- or neutral-colored crew-neck sweaters and hoodies. The outerwear often reps a street wear brand, rapper, sports team or the dancer's dance crew.
Baggy or Form-Fitting Pants
Both genders commonly sport baggy sweatpants or slim-fitting joggers, which come in a variety of different colors but are mostly worn in neutral colors, like white, black or gray.
With the influence of skate culture on hip-hop style, hip-hop dancers of the 21st century have started wearing skinny jeans in lieu of baggy pants. These skinny jeans are often worn in black, gray or dark blue hues.
Hip-hop guys are also known to wear knee-length basketball shorts in both solid colors and neutral tones. Hip-hop girls sometimes opt for leggings, which they choose to style with an oversized top only.
"Sneakerhead" Shoes
Nike high tops are common among hip-hop dancers of both genders. These shoes are often worn in a variety of bright colors, but they come in neutral colors -- such as black, white and gray -- as well. If you are wary about wearing vibrantly colored sneakers, opt for an all-white pair of Nike high-tops, which are popular with hip-hop dancers as well.
Other shoe favorites include Adidas sneakers, Vans skate shoes and Converse high tops.
Hats on Heads
Hip-hop dancers love wearing snapbacks. These caps are often worn in a variety of different colors and patterns -- or the hat reps a sports team or major U.S. city. Snapbacks are incredibly versatile and can be worn with all hip-hop outfits, whether sweatpants and tee, or leggings and baggy sweater.
Other accessories include beanies, bandanas worn around the head and bucket hats. These accessories can also be worn with any hip-hop dancer outfit to infuse some extra flair.