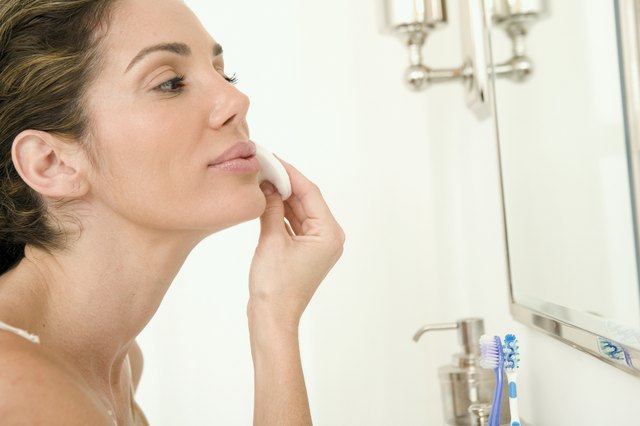 Purestock/Purestock/Getty Images
Whether on set, on stage or on the red carpet, being in the public eye intensifies the need for fast and effective acne treatments. While you might not be attending the Academy Awards tomorrow, celebrity tips, tricks and recommendations -- many of which have been proven under fire -- can lend you the upper hand in the fight against acne. Because celebs are people, too, their skin and skincare methods naturally differ, but they rely on techniques ranging from topical treatments to pulsating light procedures.
Pimple Prevention
While famous folks may have a reputation for artificiality, Beverly Hills-based dermatologist Susan Evans tells "Glamour" that celebrities "are moving away from fillers and cosmetic procedures" and prioritizing prevention instead. Evans recommends products with vitamins A, C and E to nourish skin in the long-term. Jessica Wu, another L.A.-based dermatologist to the stars, advises celebs to cut back on their dairy intake a few weeks before public appearances, noting that hormones contained in cow's milk encourage breakouts. Also speaking to "Glamour," "Parenthood" makeup artist Geri Oppenheim says that when those in the spotlight feel a breakout coming on, they sometimes turn to a salicylic acid-based pimple-blocking pen to nip zits in the bud.
The Importance of Exfoliation
Because acne results from sebum and dead skin cells clogging the pores, celebrity dermatologists recommend regular exfoliation to reduce breakouts. Evans touts microdermabrasion treatments. Dermatologist David Colbert treats actresses Rachel Weisz and Sienna Miller with this technique, while Cameron Diaz relies on it to reduce acne and hyperpigmentation. Peels with lactic acid or papain enzymes help prevent oily makeup residue from encouraging pimples, while acne washes with exfoliating beads and cleansing brushes or even a simple wash cloth -- best used in conjunction with a glycolic acid lotion -- serve as a more affordable home exfoliation alternative.
Heavy-Duty Procedures
Because performers don't always have the luxury of time on their side, some turn to intense -- and costly -- dermatological procedures to get rid of zits as soon as possible. To zap zits immediately, many celebs opt for cortisone or trichloracetic acid shots, dermatologist-administered injections that clear up blemishes in 36 to 48 hours. [1; 3/pg. 1] For a long-term solution, Beverly Hills dermatologist Boris Zaks gives celebrities photodynamic treatment, a quarterly process that activates a topical amino acid with powerful blue light. This technique controls acne year-round -- but costs thousands of dollars.
More Tinseltown Tips
In a 2014 interview with "Us Weekly," "Dancing With the Stars" performer Karina Smirnoff recommends reducing makeup and keeping hair out of your face to ward off breakouts. Instead of oily foundation, she uses skin-protective lotion as her base and deep-cleans her face with a sonic-based electronic cleanser. For an emergency at-home treatment, Smirnoff applies a paste of lemon juice and baking soda to zits, leaving the clarifying salve on for about 30 minutes before washing it away. Similarly, celebrity skin specialist Sonya Dakar prescribes a peel made of a packet of yeast, a spoonful of water and a few drops of lemon juice to clear up pesky pimples.