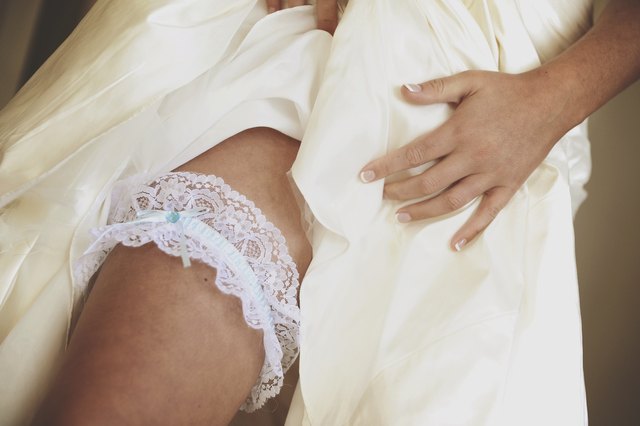 EmmaJanePhoto/iStock/Getty Images
When most people think of garters, they think of the kind grooms remove from their blushing brides legs at wedding receptions. But garters -- the decorative elastic bands worn on legs -- can also be worn as part of the the high-school prom ensemble.
Garter Traditions
The practice of wearing a prom garter varies from school to school and even from girl to girl. The garter is worn under the prom dress and above the knee, usually on the right leg. Most often made with silk, satin or lace, the garter might match the girl's prom dress or showcase her school colors. Customized garters can feature the class year, school initials or even the wearer's monogram.
Garter Removal
Some girls give their garters to their dates, who then display the garters on their arms. If you wear a garter, there is no need to participate in this practice if you're not comfortable. Some schools have garter dances where the girls dance in an inner circle and then the guys remove the garters, but many schools have rules forbidding garter removals. You can also just remove your garter yourself and gift it to your date, as many teens opt to do.