The thought of switching over to a vegan diet can feel extreme and restrictive. I mean, no bacon or brie ever again? Heresy! But the truth is, if you're already a fan of grain bowls and kale salads, chances are, going meat- and dairy-free would take you to the next level of clean eating. And even if it seems like there's nothing like biting into a juicy burger or crispy fish taco, vegans don't have to miss out on the satisfaction of eating hearty foods.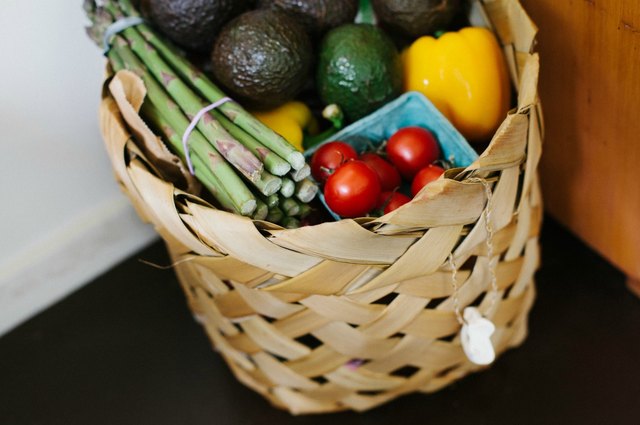 This diet is extremely healthy by design because it's plant-based and well-rounded. By focusing on eating vegetables, fruits, whole grains, nuts, seeds, and legumes, you get ample vitamins, minerals, fiber, phytonutrients, and healthy fats by default. What about protein, you say? Well, it's time to squash the rumor that vegans don't get enough of it; plenty of plant-based foods like seeds and nuts do the trick while also providing healthy fats and omega-3 fatty acids. In fact, meat eaters may be getting too much protein; Americans eat between three to five times more of it than they actually need. And your body can't use all of that—instead, the excess calories and fat can lead to weight gain. The emphasis on meat and dairy in the standard American diet isn't what it's cracked up to be. Not to mention, the quality of conventional meat and dairy is compromised by factory farming—grain-fed animals tend to have lower nutritional value and higher saturated fat and calories than grass-fed, and dairy cows are pumped with hormones and antibiotics. If you're interested in going vegan, no need to take one giant leap into it for life—that just wouldn't be sustainable for most people. Start with baby steps and try it for a week or two and see how it feels. Some improvements to look out for: less bloating, more energy, and better skin. Here's everything you'll need to eat healthy and feel satiated.
A variety of veggies
First things first: vegetables should be the No. 1 priority. And the more diverse the selection, the more nutrients you'll take in. Never leave the grocery store without the fantastic trio of garlic, mushrooms, and onions—they lend savory, umami flavors to just about any dish. Cauliflower might seem so beige (aka boring), but it's actually one of the most versatile veggies. It can be made into rice, pizza crust, and even buffalo "wings." Avocado is very rich in healthy fat. Keep it on hand for salads, grain bowls, smoothies, and of course, guac. Sweet potatoes are a go-to because they're so filling, nutritious, and easy to make. Pierce a few holes into one with a fork, coat it with olive oil, wrap it in foil, and bake in the oven at 400 degrees Fahrenheit for 45 minutes. Slice it open and enjoy. Grab a variety of lettuces of your choice for salads. Add spinach into the mix for a dose of iron and vitamin A.
Garlic
Mushrooms
Onions
Cauliflower
Avocado
Sweet potatoes
Lettuce
Spinach
Fresh and frozen fruits
Like veggies, a rainbow of fruits provide lots of vitamins, minerals, and antioxidants. Choose any fruits you like, especially ones that are in season, but bananas and frozen berries are a good start for sweet on-the-go snacks and super-cold, nourishing smoothies.
Meat alternatives
Tofu is a vegan staple because it subs in perfectly for meat in stir-fry. Crumble it up, add some onion powder, garlic powder, salt, and turmeric and sauté it for pretty convincing scrambled "eggs." Always opt for organic tofu, which is made from non-GMO soy, and try not to eat it every day—the isoflavones in soy mimics estrogen in the body, so too much of it can disrupt hormonal balance. Some vegans think of tempeh as the healthier version of soy protein since it's fermented, making it easier to digest. The best thing about it, though: it can be transformed into veggie bacon. Try not to make a habit of eating fake "meat"—whole foods are always better than anything processed. However, there are some pretty incredible vegan burgers out there that boast real ingredients. Beyond Meat's Beyond Burger (available at most Whole Foods) is definitely mind-blowing—not only does it look and taste like the real thing, but it's also non-GMO and free of soy and gluten.
Organic tofu
Tempeh
Veggie burgers
Whole grains for BLD
Whole grains fit into every meal of the day. Kick things off with oatmeal with a drizzle of maple syrup and a sprinkle of cinnamon, or whole-grain avocado toast. For lunch, quinoa gives salads an extra boost of protein and fiber, as well as added texture. And brown rice with sautéed or roasted veggies makes a simple yet satisfying dinner.
Oatmeal
Whole-grain bread
Quinoa
Brown rice
Beans and legumes
Beans and legumes can play a starring role in hearty vegan meals. Black and refried beans are essential for loaded burrito bowls. Garbanzo beans, also known as chickpeas, give a Mediterranean flair to salads. Feeling ambitious? Try your hand at making your own falafel with them. Lentils add major substance to soups, stews, and curries. Pair any of these dishes with brown rice.
Black beans
Refried beans
Garbanzo beans
Lentils
Seeds and nuts
Seeds and nuts pack a ton of protein and healthy fats, and they have a few clever tricks up their sleeves, too. Flaxseeds and chia seeds can sub in for eggs in baking—for one egg, add 3 tablespoons water to 1 tablespoon ground seeds. Ground cashews are a surprising dupe for parmesan. Process ½ cup raw cashews with 1 teaspoon sea salt and ¼ teaspoon garlic powder. Keep walnuts around for snacking—they're good for your hair, skin, and nails.
Flaxseed
Chia seeds
Cashews
Walnuts
Non-dairy milk and cheese
Say bye to milk, cream, and cheese. That bloated feeling that usually comes on after eating these? It's not really normal. Over 65 percent of all people are lactose intolerant. Almond milk is a game changer—it's pretty similar in taste and texture to dairy milk. Califia Farms makes one that froths, so you'll never have to miss out on lattes. Coconut milk is handy for cooking up rich, healthy curries. Bonus: scrape the cream from the top of the can and make vegan ice cream with it. If you don't think you can live without cheese, grab some Daiya cheese for the occasional homemade pizza. Promise: it actually is gooey, melty, and tastes amazing.
Almond milk
Coconut milk
Vegan cheese
The healthiest cooking fats
You probably already have some healthy cooking fats like coconut, avocado, or olive oil on hand. (If not, get into it.) Refined coconut oil might be better for those who don't love the taste of coconut in a sauté. While some vegans swear by Earth Balance, Miyoko European Style Cultured Vegan Butter is next-level because it's made with organic coconut oil, organic cashews, organic soy lecithin, sea salt, and cultures—no palm oil, which some ethical eaters shun since palm plantations are a major cause of deforestation.
Coconut oil
Avocado oil
Olive oil
Vegan butter
A couple of key condiments
Coconut aminos will make you ditch soy sauce forever. It tastes umami, salty, and sweet—everything needed for a dynamic stir-fry. Apple cider vinegar is a must-have for a quick and tasty salad dressing—mix equal parts ACV and olive oil plus a squeeze of lemon and a little salt and pepper. Need some dairy-free buttermilk? ACV's got you there, too—add 1 tablespoon to just under 1 cup of almond milk and let it sit for 10 minutes.
Coconut aminos
Apple cider vinegar
Herbs and spices
Besides sustenance, flavor is one of the reasons we love to eat! Don't skimp on herbs and spices. A few staples will get you through, but feel free to stock up on all your faves—they'll last forever.
Garlic powder
Onion powder
Thyme
Basil
Oregano
Cumin
Turmeric
Cinnamon
Dark chocolate
Honestly, one of the great things about eating vegan is it puts many sugary desserts, often made with dairy and eggs, off limits. Maybe that sounds like a sad existence, but we all know sugar does a number on our waistlines and skin, and we can definitely do without that. Luckily, dark chocolate is usually vegan, and it hits the spot. Keep a stash in the pantry for emergency cravings.